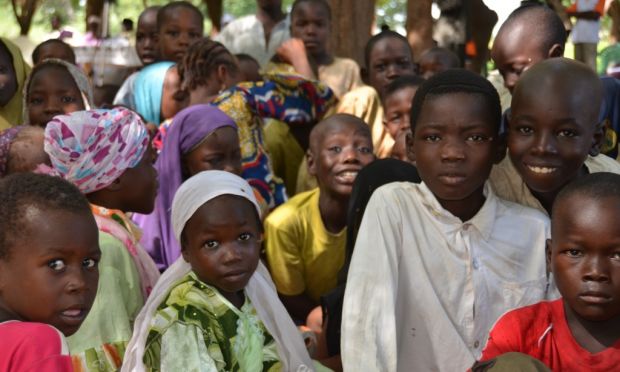 Written by Jerry Kazadi, World Vision Chad Integrated Programs Director
Peace and harmony have often been in short supply in the community of Dobembe, Chad in recent years. Although the town, which is located about 700 kilometers southeast of the capital city of N'Djamena, is part of an area that is graciously covered with grass to graze cattle, there are conflicts between local farmers and nomadic herders, who bring their cattle to feed near the community. That situation began to change earlier this year, thanks to interventions by World Vision's Kids' Clubs in the community.
In March 2017, Kids' club members from Dobembe approached herders' children to teach them best practices on hand washing and importance of education. At first, the contact was difficult to establish because the herders' children were worried, but thanks to a Kids' Club supervisor who provided explanation and details on the children's activities, the two sides were able to get together. The members of World Vision's Kids' Club taught their new friends about the importance of washing their hands and other personal hygiene tips. More importantly, the meetings opened the door to new connections between the families of farmers and herders. While it's too early to say conflicts among the children are at an end, the new relationship is off to a promising start.
In addition, thanks to Kids' Club activities, the herders became open to farmers and shared some of their critical needs. They mentioned that they need clean water after it was discovered that the water they used to drink was not potable. Kids' Club supervisors were able to speak to herders who were reluctant to interact with their neighbours to teach them the value of peaceful cohabitation. Herders' children are often denied education in Chad because of their nomadic ways, and World Vision is working with local authorities on ways to deal with this situation.
There's never any easy solutions to problems that have existed over many generations, but World Vision believes that the activities of its Kids' Club members in Dobembe will help encourage parents on both sides of the divide to work together effectively for the benefit of their children.