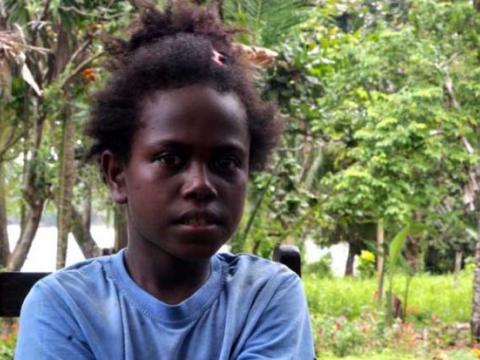 Precious gift from the cocoa trees
Monday, December 25, 2017
December 25th, 2017 Honiara - Georgina hails from a World Vision Project community, Tawapuna, in Makira Ulawa province. She is the youngest child of Mathew Nialenai, the cocoa farmer and also Market Linkage Facilitator.

When she was asked what she always looks forward to during Christmas, she mentioned beach picnic and more food on that particular day. 
"I always look forward to the beach picnic with my family or Christmas meal with my mum and dad and older siblings"

Mathew Nailenai is a hard-working cocoa farmer who toiled hard to keep food on the table for his family and to provide for his children with their studies. As a cocoa farmer, he used to call on his wife and children to help him in the cocoa farm instead of getting labourers. This year is quite a tough year for Matthew since he had to save for his children's school fees, meet their needs and save up to build a new home for his family to replace the one that was destroyed by the 7.8 magnitude earthquake in December 2016.

"As cash flow is not good enough this year, I was planning to make a small Christmas dinner just for my family for Christmas instead of buying Christmas presents for each of my family members," said Mathew.
As for, Georgina who was looking forward to a Christmas present wrapped with red shiny wrappers, she had to accept whatever her dad has decided and prepared for them for Christmas.
"I watched movies about Christmas and saw Christmas trees, Christmas lights, and children receiving Christmas presents from the grandfather who usually wears red and white clothes and has long white beard. I wish I receive that many Christmas presents as well during Christmas. But my dad said the most important thing to spend on is our food and school fees to sit for our exams." Georgina giggled and looked away.
Mathew and his family have started harvesting cocoa again in late November because back to school will be in late January. His wife and children helped him a lot of times instead of hiring any labourers. Georgina is also his daddy's little helping hands on the cocoa farm.
"I love my dad because he loves us, he cares for us, he helped us and provide us with what we need. He is a very hard working man. He told us that we already have the most precious Christmas present anyone could give us and that is life itself. We don't have Christmas trees here, we only have cocoa trees. From the cocoa trees, we have more than what we want. I hope other children appreciate what they have for Christmas as well."
Georgina sighed.  Merry Christmas to you all.