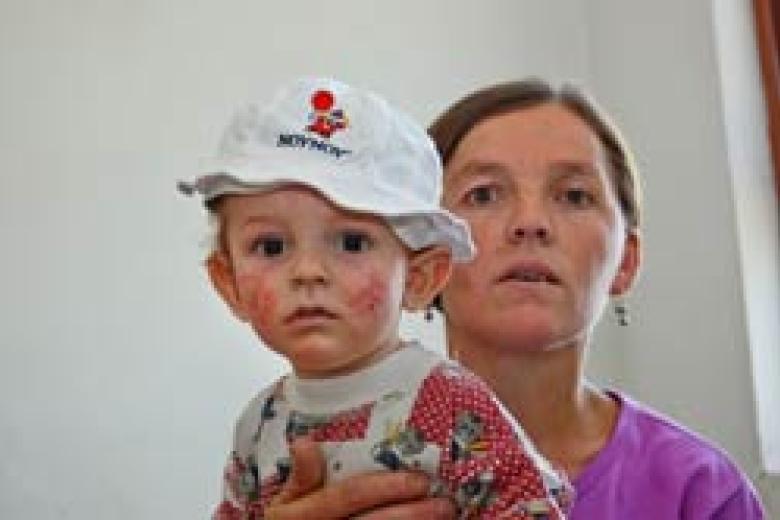 Putting mothers on the front line
Friday, December 2, 2011
In the village of Malecaj, located in Lezha in northwest Albania, 3-year-old Adrian is playing happily with his friends. But a look closer into the boy's eyes and at the place where he lives reveals the daily struggles his family endures to merely survive. 
Their only income is from farming. Unfortunately, the agricultural industry is faltering due to lack of available land, heavy rains and frequent flooding. Adrian's parents constantly fight the battle of poverty and all the disadvantages that it brings. Access to healthcare is very limited. They have already lost one son in infancy, and they are concerned for Adrian, their only remaining child. 
The outlook for Albania's children is grim. Nearly one in every 45 children will die before reaching his or her fifth birthday. Both infant mortality and under-5 mortality rates are higher in Albania than in neighbouring Balkan countries. (Albania Demographic and Health Survey (2008-2009) conducted by the United Nations and the Albanian government)
Acute lower respiratory infections, particularly pneumonia, are among the leading causes of child mortality in Albania. Other causes include diarrhoea, malnutrition, anaemia, intestinal parasites, nutrient deficiency and hygiene problems. However, child mortality rates are not only the problem – they are merely an indicator of other issues prevalent in Albanian society. 
Lack of financial and human resources means many families are unable to access quality health services. Most health centres, especially in rural areas, lack even the most rudimentary equipment and resources, such as surgical tools and patient beds, as well as running water. This situation is exacerbated by overall poor understanding of health and healthcare.
Steps towards change
World Vision in Albania is committed to tackling these health issues through capacity building of health professionals, educating communities to adopt healthy life-style practices, and advocacy initiatives. By providing training through the Community Integrated Management of Childhood Illnesses (CIMCI) initiative, which targets mothers, World Vision is striving to increase awareness of health issues – specifically in regard to children under the age of 5. 
Over the past two years, around 2,500 women from throughout Albania (nearly 200 of them from Lezha) have received invaluable information about health issues and how to help their children be as healthy as possible. 
"I have learned a lot during these trainings, and I have tried to put them into practice as much as I can," shares Landa, 23, who is Adrian's mother. "One of the things that I learned and I have found very beneficial for my son is how to decrease fever. I learned that using a cloth with cold water on the forehead of the child causes headaches to the child. But putting his feet in warm water decreases fever and doesn't cause headaches. I didn't know that before!" 
Lina Gjeloshaj, the Malecaj village nurse, says, "I have noticed that during these last two years, these women have learned many things about childrearing practices and have put them into practice. I think these trainings have been very beneficial to them." 
Lina says further, "They have learned about the importance of vaccinating their little ones, of increasing daily use of garlic for both preventing and treating diseases such as intestinal parasites, and of boiling water before using it to prevent diseases such as dysentery, hepatitis etc." 
 Women have also learned to take better care of themselves during pregnancy, such as not lifting heavy weights. Through the training they are more aware that taking care of themselves and their children is the first step towards better health for both mother and child. 
"When I was young, training courses like these didn't exist, and I learned many childrearing practices from tradition. They weren't always right though," said Lule, aged 50, Landa's mother-in-law. "I have been part of these training sessions many times, and I have learned things that I didn't know. I wish I had training like this when I was younger so I could raise my children better."
 Lule goes on to say, "I would like to know more about treatments based on known medical practices and less about traditional cures because many times these traditional cures instead of solving the problem make it worse, like the case of using cloth with cold water to decrease fever in children."
World Vision advocates for the right of good health
To effect change in the long run, World Vision is aiming to advocate for better health services. 
"World Vision is currently developing an advocacy strategy to improve maternal and child health and nutrition through systematic policy reform and policy implementation in addition to community-based initiatives such as this one," says Melanie Ewert, advocacy manager for World Vision in Albania. Renato Toska, World Vision's health manager, says, "The right to have access to good health is a basic right for every child. We aim to develop long-term benefits in prevention of diseases so that children enjoy good health." 
 Adrian's idea of "life in all its fullness" is playing with his friends and enjoying his childhood. This is a right for every child. Where there is a right, there is also a will to make it so.