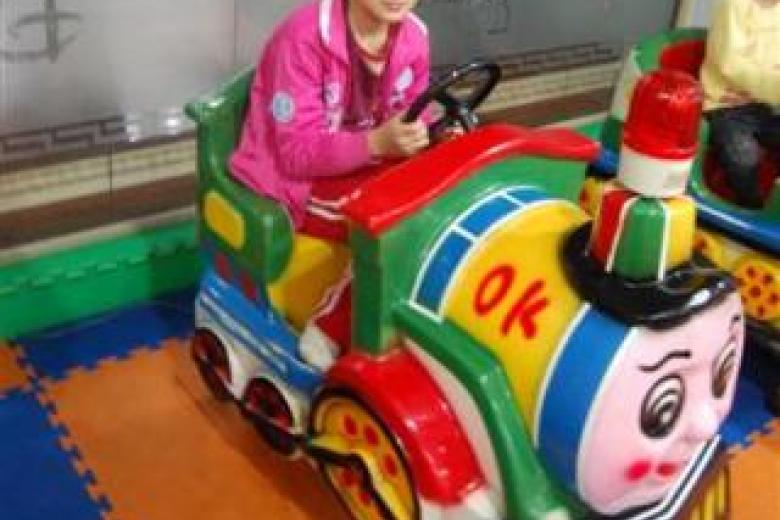 Reeling from worst flooding in a century - Albanian families shares their story
Thursday, December 9, 2010
Mimoza, her husband and their children found refuge with Lirie's family in this tiny room when their houses in Shkodra, northwest Albania, were inundated with water, destroying all their possessions. Now home to eight people, the room holds an unpleasant odor; a combination of some food on the old table, and the fact that people here have little opportunity to wash or change their clothes.

The big eyes of ten-year -old Lediona, Mimoza's daughter, show a deep suffering while she looks with hope in search of someone to talk to about the many problems her family is facing since the flooding. Lediona\'s house is one of the thousands flooded in the Shkodra area.

"I am very sad," she says. "I used to go out with my friends, play and have fun; now I'm stuck in this room with nowhere to go."

She is fluent with a maturity that surpasses her age. Evidently she has had to deal with many problems throughout her entire childhood.

"I remember when the water was in the yard of our house and then came into the house," she shares, reliving those hard moments again. "I was scared. My mother became worried and was telling my father to take my brothers and me to my grandmother's house. At least this way we would be safe."

"We were all scared," adds Ibrahim, aged nine.

"My mother was alarmed. We were afraid of what was going to happen," says seven-year-old Sadik with a shy voice.

The Dauti family, like many other Roma who live in Shkodra, is very poor. Forty-year-old Durim, Mimoza's husband, collects cans anywhere he can find them and makes around US$3 per day. Durim rises at first light and works all day till late to secure some income for his family. They receive only a small amount of assistance amounting to US$37 per month from the state.

Mimoza suffers from severe depression and cannot work. She becomes very stressed over minor worries, let alone dealing with a flood that has destroyed all of the family's belongings. The hardest thing for these parents is not only the poverty they live in, but that their middle child Ibrahim suffers from epilepsy.

"I am sick myself and I don't know if I can take care of my children, especially in this hard situation we are living," says Mimoza.

Unfortunately this is not the first flooding for Shkodra and each year the situation is becoming worse.

"This is the second time our house has flooded," says Mimoza. "Last year, our family was not evacuated by the government but I managed to take my children to my mother-in-law's house. Both my husband and I stayed in the house with water close to our knees. We would fall asleep in our chairs with our feet up in the chair."

"This year the flood was so much bigger and we really needed to be evacuated this time," she continues.

After they took the children to the house of their relatives they decided to stay inside for four days with the water up to their knees trying in desperation to lift the furniture and salvage their few belongings. "Those were our lifetime of work and savings," says Mimoza, "but the flood destroyed everything."

"All of our possessions are lost in the flood and we don't know how we can return to live life normally again," says Durim.

"We have nothing now, nothing," says Mimoza as her face turns red from anxiety.

The flood has shaken not only their everyday life but also their hope for a better tomorrow. The Dauti family is thankful to God for being safe during the worst flooding they have seen in Shkodra in the last century. Their story is shared with thousands of other Shkodra residents recently evacuated from the flooded area.

In the midst of the disaster all normal life activities have been interrupted as schools in the area are under water. The government has called it an emergency situation and is asking for assistance from NATO and neighbouring countries.

After quickly assessing the situation World Vision has been partnering with the government, churches and other partners to provide some immediate assistance like helping to coordinate the evacuation of people and other immediate survival needs.

This year, the situation was handled better by the government authorities. Now, the different levels of government and other partners are responding to the most basic needs of the displaced, including food, water and clothes. However, there are many needs and several gaps that need to be filled.

In addition to the financial challenges after losing their homes and possessions, the families and especially children and women are bearing the emotional burden of experiencing this kind of disaster Because the parents themselves are having to deal with their losses they aren't always able to provide the comfort and emotional support that their children need to cope with their new reality.

"I pray to God to give strength to my children, especially to Ibrahim as he is more sensitive than the others," says Mimoza, trying to hold back her tears.

Despite the stressful living conditions, the children still want to do the things they normally do, like play and to have fun and find ways of bringing hope to themselves and to the other people around them.

"I always tell them not to play in the cold hallways because they will get sick," says Mimoza.

World Vision has established two Child Friendly Spaces (CFS) for more than 160 children like Ibrahim, Sadik and Lediona who are living in the dorm rooms – safe spaces where they can play and learn in an informal but structured environment and just be children.

"We had a lot of fun today when we came to the activities," said Lediona. "I liked painting a lot," adds Ibrahim.

"Through CFS World Vision aims to support affected communities, especially children and women physically, emotionally, and spiritually," says Edmond Qokaj.

World Vision's thirty-day response plan reflects the continual changes and needs in the area, with activities involving psychosocial and spiritual support, recreational activities for children, health checks, and provision of supplies in order to meet critical needs. Also, World Vision will work toward facilitating the coordination of all actors involved in Shkodra's emergency response.

"We usually create airplanes out of paper and make them fly in the air. Along with them fly our dreams and hopes that soon we will have our homes back," says Dashi with hopeful eyes as he visits other families living in the university dorm.


Additional info
World Vision started its programmes in Albania in April 1999 in response to the Kosovo refugee crisis, working in the capital, Tirana, as well as in the cities of Saranda, Elbasan, and Vlora.

Today World Vision Albania assists children, their families and communities through ten Area Development Programmes (ADPs) in Lezha, Vlora, two in Elbasan, Kurbin, Tirana, Shkodra, Dibra, Korca, and Librazhd, as well as through its microfinance organisation, VisionFund Albania, which took over the former microfinance institution, 'Building Futures' in January 2010.