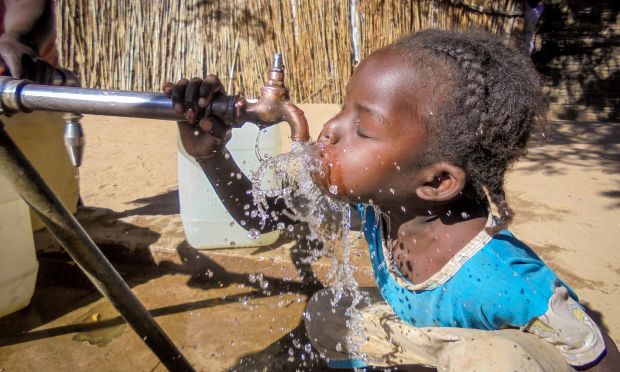 World Vision has launched a project worth 800,000 EUROS in South Darfur aimed at enhancing the nutritional status of the most vulnerable populations, as well as improve their accessibility to safe water, improved sanitation and hygiene services.
The project, funded by German Federal Foreign Office will directly benefit a total of 66,346 people, 29, 296 of whom are children and are living in camps for internally displaced persons. It will focus on communities living in Mershing and Kubum localities; both these localities were identified and selected by the Humanitarian Aid Commission (HAC) in coordination with UNOCHA and other UN agencies as priority locations with the highest humanitarian needs for interventions.
Nutrition interventions will focus on setting up Community Management of Acute Malnutrition (CMAM) sites to treat and manage cases of malnutrition among other interventions. It is expected that the interventions will significantly reduce nutrition related mortality of children under five years in the two localities.
Water, sanitation and hygiene related interventions will include establishing safe and clean water points through drilling and equipping of boreholes to improve access to safe water; these will target villages without existing water points. The interventions are also expected to improve sanitation coverage through construction of latrines both at household level and in institutions such as health facilities and schools; and promote proper hygiene practices.
These interventions are expected to ease the burden of thousands of already vulnerable displaced people who face significant access challenges. The challenges range from long distances to water sources, drinking water from unprotected water sources such as open hand-dug wells located along river beds, to inadequate sanitation facilities such as latrines and unhygienic practices that expose populations to water and sanitation related diseases.
"We are grateful to the people of Germany for this great donation towards the people of Sudan," says Kelbessa Daba, World Vision Sudan Operations Director. This donation will go a long way in meeting the current nutrition, water, sanitation and hygiene needs of vulnerable children, women and men of Kubum and Mershing localities. The project is expected to significantly contribute towards the reduction of disease prevalence caused by poor sanitation and hygiene, lack of safe drinking water, and poor nutrition practices."
On his part, Rolf Welberts, German Ambassador in Khartoum says: "With our contribution to World Vision in South Darfur, Germany demonstrates its continued commitment to those who are affected by conflict and poverty in Darfur. I am glad that the project will in particular come to the benefit of thousands of young children, whose development could be seriously affected by malnutrition and diseases without any assistance."
The project is being implemented in partnership with national NGO partners over a period of 18 months and will end in July 2017.
-ENDS-
Click here for full press release.