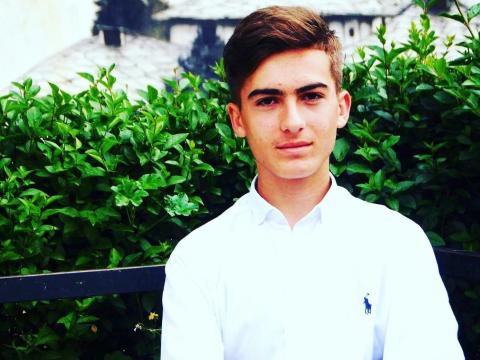 Remember
Thursday, May 3, 2018
Everything started during "the war in Kosovo" when my father was wounded and my brother was killed. Of course, the war has its consequences and pain, but in my family the pain was so deep because of the death of the only son in the family (my brother) that it became a nightmare. My brother's name was Kujtim and he was 18 when he passed away. He was born in 05.09.1979 and was killed in 19.07.1998. I was born almost three years after his death in 2001. My parents loved me very much, but they would still miss my brother. My mom got very sick, got diagnosed with diabetes, and after some years she passed away. Since 2011, I live only with my father. He is my whole family and I pray to God for good health and good times, despite what we have been through. 
In my school, the Peace Club was established and it was functional, but I never had thought that one day I would be part of it.  After the events that had happened in our family, 'reconciliation' with the Serbs was something scary even to think about.  I was eager to be part of the activities, to have fun and new experiences with friends. All I had was the school where I could spend some time with friends and have fun like the other kids. 
I remember when I asked dad if I could be part of the Peace Club, he said to me:  'I lost a son at his best age; I don't want to lose another son now.' He was very determined and clear-cut, so I didn't insist more. 
Later, my father himself understood that this Peace Club would help me and it perhaps would heal my wounds as well. Now I am in high school, I grew up with Peace Club and I have realised that the history could not be forgotten, but forgiveness is our only healing. I have lots of friends even from the Serbs community and not all of them are as I have portrayed them, or prejudiced.
With love
Kujtim