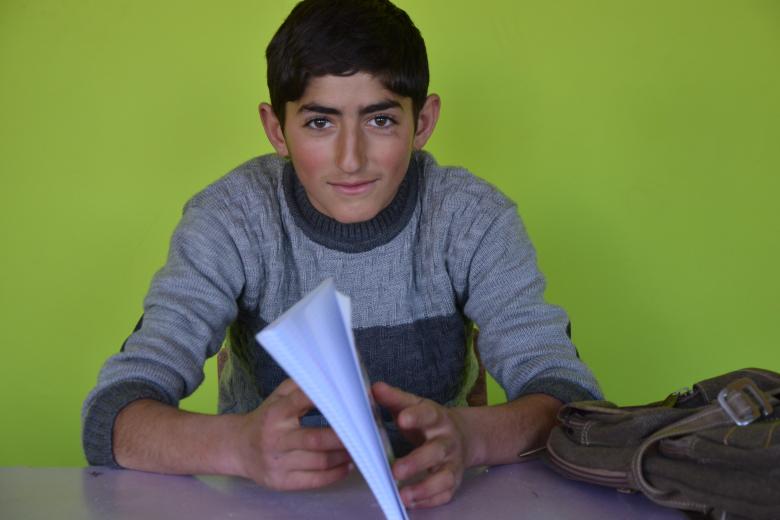 Returning childhood back to Nika
Monday, March 7, 2016
14 year old Nika had to leave school to financially support his family and a newborn baby, if it has not been for World Vision's Family support services Nika would still be grazing cattle in a field - sacrificing his education for his sister's comfort and well being. 
The family was not financially ready for the challenges that came together with the newborn baby. "After having the second child I was no longer able to work, instead I had to provide clothes and most importantly food for little Mariam." Says Ana, mother of two. "This was when my son - Nika decided to work physically, provide income and save us from starvation." She adds.  
"I knew that if I wouldn't do anything no one would, so I decided to leave school and use my time  and energy to generate money, it wasn't easy, I had to spend all day out in the field with animals, away from home and friends" Says Nika.
…
Nika has been registered at World Vision's sponsorship program. Having heard his story from a Child Development Worker, World Vision's Kakheti Area Development programme immediately decided to consult with a social worker and take action to keep the family together and avoid moving children to foster care.
Soon the family was included in World Vision's Family Support services programme and was equipped with baby food, diapers and a baby care kit. 
"I would never imaging all the support we received from the programme, I didn't think I would be able to send my son back to school and not even worry about the baby food" Says Ana. 
"I'm so happy to return back to my usual lifestyle, see my friends and play with them." Nika.
I still take care of animals, not the cattle but ones that are our pets, and I really enjoy it, I dream of having my own farming business when I grow up." Says Nika
World Vision maintains a strong presence in the field of Child Welfare through active work on the policy level and development of the range of Family Support Services in Tbilisi and regions with regards to Child Prevention and Reintegration.
FSS offers the following services:
DAY CARE CENTER (DCC) FOR VULNERABLE INFANTS/TODDLERS FROM 6 UP TO 30 MONTHS
EMPLOYMENT SERVICES FOR THE SOCIALLY VULNERABLE MOTHERS/THEIR FAMILY MEMBERS
HEALTH & NUTRITION COUNSELLING
EMERGENCY SUPPORT/CRISIS INTERVENTION
SUPPORT TO REINTEGRATION
PSYCHOLOGIST
ADVOCACY & COMMUNITY AWARENESS