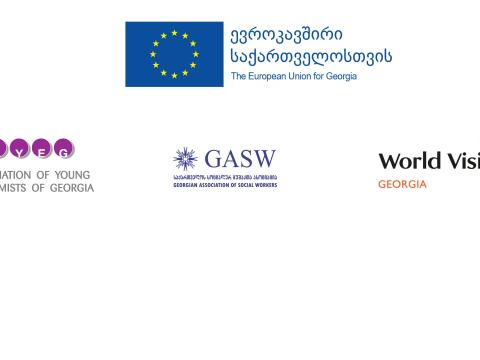 EMPOWERED CIVIL SOCIETY FOR GOOD GOVERNANCE
Tuesday, November 6, 2018
PROJECT: EMPOWERED CIVIL SOCIETY FOR GOOD GOVERNANCE.
 Donor: EU Delegation.
Project Implementing Partners: World Vision Georgia, Association of Young Economists of Georgia and Georgian Association of Social Workers.
Overall Goal: To contribute to good governance, accountability and inclusive policy-making in Georgia featuring empowered civil society at local and regional levels.
Implementation Period: 01.02.2018 – 31.01.2020
Geographical Area: 6 Regions of Georgia with 13 municipalities:
Kakheti Region: Telavi, Gurjaani and Kvareli Municipalities;
Samtskhe-Javakheti Region: Akhaltshikhe and Adigeni Municipalities;
Imereti Region: Baghdati and Zestaponi Municipalities;
Kvemo Kartli Region: Rustavi and Marneuli Municipalities;
Samegrelo Region: Abasha and Senaki Municipalities;
Adjara Region: Batumi and Shuakhevi Municipalities;
Target Groups: Local Civil Society Organizations (CSOs); 13 Municipalities from 6 Region of Georgia;
Local Business; Around 200 Communities of the targeted Municipalities, in particular, the most vulnerable and disadvantaged groups:
- Children
- Youth
- Women
- National minorities
- IDPs
- Persons with disabilities
With an aim to enhance accountability and participatory policy-making at local level, the project during its implementation period will work on the following directions:
1. Increase the CSOs' capacities in participatory budget development, monitoring and advocacy;
2. Enhance the Collaboration between Local Authorities and CSOs for participatory decision/policy making;
3. Support CSOs and Local Authorities to develop and deliver accessible and quality social services with a focus on vulnerable groups;
4. Increase awareness on CSR and volunteerism among CSOs, Local Authorities and the private sector, through facilitation of multi-stakeholder partnerships.
Based on conducted work the project envisages having the following results: Empowered local CSOs able to influence policies and effectively advocate for the rights of their target groups;More inclusive, responsive and effective policies meeting the needs of their communities;Local Authorities become more credible, legitimate, and effective through increased social accountability and participatory decision-making;Sustainability of local civil society sector enhances through cross-sector partnerships, including the private sector.