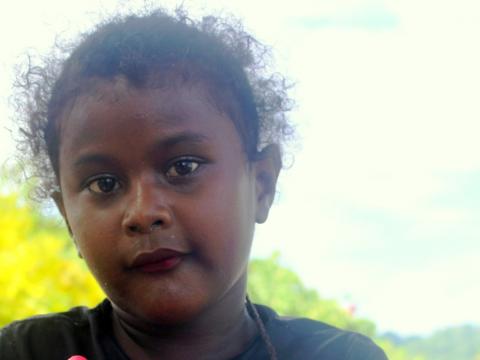 Six months on after Solomon Islands' 7.8 magnitude earthquake
Thursday, June 1, 2017
Six months ago, Meme experienced the most fearful event in her life. It was when a violent 7.8 magnitude earthquake struck her hometown of Kirakira in the Solomon Islands province of Makira.
The early morning earthquake on December 9, 2016, jolted the four-year-old awake and destroyed the contents of her family's kitchen including plates, cups and cutlery.
"It was very frightening. I don't like earthquakes," recalls Meme
Meme was lucky, there was little damage to her home. Many other families lost their homes including those on Makira's Weather Coast area, which bore the brunt of the earthquake. The earthquake lasted for about a minute but by the time the tremors stopped, over 1000 homes were damaged, along with 20 schools and four clinics.
John Kole and his six children were among families whose homes were destroyed and were helped by World Vision.
John said they lost nearly everything and are still recovering from the earthquake.
"We thank World Vision for providing us with a shelter kit. The kit contains what we needed to rebuild our home. It (kit) really helped us in our recovery," said John.
Photo 1: These homes were abandoned by families after December's 7.8 magnitude earthquake. Photo 2: Marunga School in the Weather Coast of Makira was damaged on December 2016.
Across Solomon Islands, the earthquake affected three provinces and impacted about 34,000 people.
Six months on and life for Meme has returned to normal. She's back in class with her friends. Yet memories of the earthquake still linger. She's in the same classroom that had been used to shelter people whose homes were destroyed by the earthquake.
Meme's fear is that another big earthquake may strike. It's a fear that authorities are mindful of given Solomon Islands' location on the Pacific Ring of Fire.
For the Makira Provincial Disaster Management Office, preparation is key, and it works closely in partnership with stakeholders like World Vision to ensure it is ready to respond to disasters.
Among the key measures is the placement of World Vision's relief supplies in Kirakira, which can be mobilised upon request from the government, in times of emergency.
In the aftermath of December's 7.8 magnitude earthquake, World Vision was able to draw from its pre-positioned supplies along with additional supplies from World Vision's stock in Honiara. With the support of the governments of New Zealand and Australia World Vision distributed shelter kits in Makira, along with hygiene kits and blankets to over 2000 people. Shelter kits, hygiene kits, blankets and collapsible drinking containers were also distributed to South Malaita and Guadalcanal as part of World Vision's Solomon Islands Earthquake Response.
World Vision staff member, Robert Kinika, inside the pre-position supply storage in Kirakira.
"World Vision has indeed supported our response straight after the earthquake. You know, when we responded quickly, we put smiles on the faces of those affected," said Ruth Timauku, Makira Provincial Disaster Officer. 
Photo 1: Makira Provincial Disaster Officer, Ruth Timauku, looked after the province's disaster response. Photo 2: Resources is a concern for the Makira-Ulawa provincial disaster office. Currently, the office's 2-way radio is not working.
"World Vision is proud to support the response effort led by the Government of Solomon Islands and the Provincial Government of Makira to reach the most in need including, women and children like Meme," said World Vision Country Director for Solomon Islands Janes Ginting.  
World Vision staff member, Gray Nako, distributes World Vision's shelter kits in communities on the Weather Coast of Makira days after the earthquake.