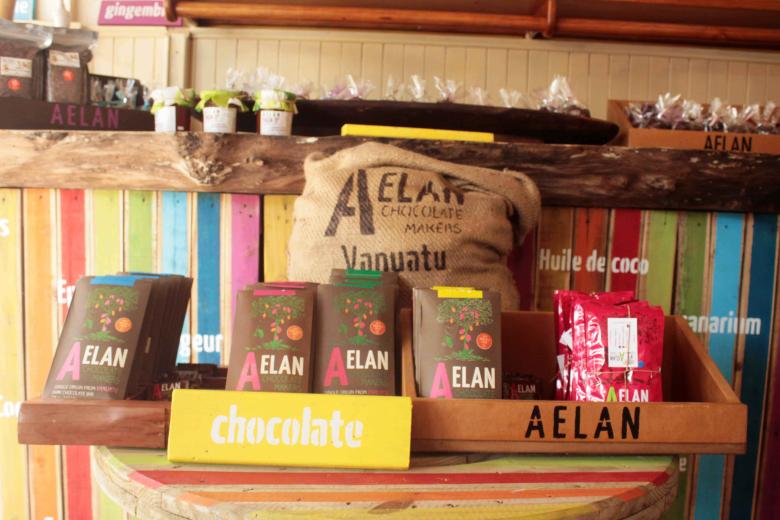 The sweet taste of success
Tuesday, April 11, 2017
Malo Island is an hour's boat trip from Vanuatu's second largest town, Luganville. Here, in the past, many farmers chose not to prune their cocoa trees as they believed this practice was harmful to the tree and would decrease yield.
Moli, 44, a father of four, was one of the farmers on Malo Island who previously held this belief. Based on low yields and limited income from cocoa, he decided to focus on copra production instead, and this was the main income source for his family for many years Copra is the dried kernel of the coconut, used to extract coconut oil.  
In March 2016, Moli heard about World Vision's Sanma Economic Development Project and got involved. The project, which supports farmers on Santo and Malo Islands to improve the quality and quantity of their cash crop production, is supported by the New Zealand Aid Programme and HB Williams Trust.
"Since the training, I have gone through one [cocoa] production cycle and my income has already increased from AUD$168 [for one harvest cycle] before attending the training, to AUD$841 [for one harvest cycle] after applying the different farming methods learned from the training. It was a good gift for my family and me for Christmas 2016," Moli said.
Moli with his son at the cocoa farm. Photo: Pauline Toa/World Vision
World Vision connected farmers with ACTIV Association (Alternative Communities Trade in Vanuatu), a local non-profit association that works closely with cocoa farmers on Malo. ACTIV helps farmers earn an income by purchasing their products, and encourages cocoa producers to put their learning into practice, to earn more money and improve their livelihood. 
Moli's cocoa caught the attention of the Director of ACTIV and Aelan Chocolate Makers, Sandrine Wallez.
"ACTIV supports farmers from different islands in Vanuatu and will continue to motivate them. Moli's cocoa beans are great, and we decided to turn them into chocolate," Mrs. Wallez said.
Sandrine Wallez, the Director of ACTIV and Aelan Chocolate Makers, holding the chocolate produced using Moli's cocoa beans. Photo: Terence Malapa/World Vision
She remembered encouraging the group of farmers, including Moli, when introduced to ACTIV in 2016, about the importance of harvesting methods and fermentation in order to produce quality chocolate.
"Moli put a lot of effort into his cocoa production and produced quality beans, so ACTIV decided to purchase his cocoa," she added.
Aelan Chocolate Makers recently started manufacturing Moli's chocolate, which is now on sale in their shop 'Aelan' in Port Vila city. 'Aelan' means island in Bislama, one of Vanuatu's official languages. The chocolate created by Aelan Chocolate Makers is single-origin, so all of the cocoa used to produce chocolate from Malo Island was grown and harvested by Moli and his wife.
Chocolate on display at the Aelan boutique in Port Vila. Photo: Terence Malapa/World Vision 
The quality of Moli's cocoa beans led ACTIV Association and Aelan Chocolate Makers to enter it into the Cocoa of Excellence 2017 competition in France. The Cocoa of Excellence Programme is the entry point for cocoa producers to participate in the International Cocoa Award, a global competition recognising the work of cocoa farmers and celebrating the diversity of cocoa flavours. By bringing together leading sensory evaluation experts, the chocolate industry and the next generation of cocoa pionners, the Cocoa of Excellence Programme recognises and rewards cocoa with exceptional and unique flavours, while bringing know-how, cocoa evaluation tools, market opportunies and incentives for safeguarding cocoa diverstiy for farming communities and national organisations globally.
 "Moli has produced good quality cocoa beans. Being entered into this competition is a further incentive for him to continue. We have our fingers crossed as we wait for the result," Mrs. Wallez said.
Moli takes the production of quality cocoa seriously. He shared, "I remembered one day when harvesting cocoa, I threw away cocoa beans that had been eaten or scratched a bit by rats, and my neighbours thought I was crazy and just throwing money away but I stood firm. I followed the training I had received to only produce quality beans."
Moli carefully drying beans using the solar dryer. Photo: Pauline Toa/World Vision
Moli is very excited his cocoa has been entered into an international competition.  "When I heard the news, I was full of emotion and speechless for a very long time. I recalled when I visited a cocoa farmer on Malekula Island (south of Malo), who had won an Australian cocoa award some years ago, I told the other farmers I could achieve something like this one day. I am an optimist and it will be great for Vanuatu if my beans win."
Sai Silas, the community chief, who is also the chairman of the organic copra and cocoa committee on Malo Island, said Moli has inspired others in the community to plant cocoa.
"Moli shares what he has learnt from the project with everyone who has shown an interest in cocoa farming," Mr. Silas said.
For Moli's wife, Monique, the cocoa income has transformed their lives.
"I had no problem paying school fees of AUD$457 for each of my two eldest children in secondary schools for the first semester, and the semesters to come. Our lives wouldn't be as they are if it wasn't for this project. Our daily needs are covered by the cocoa income," Monique said.
Moli's wife, Monique, checking the cocoa beans. Photo: Pauline Toa/World Vision
Moli expressed his gratitude for the assistance he has received, "Without the support of ACTIV, Aelan Chocolate Makers, World Vision and the donors, I would not be who I am today."
The ACTIV Association (Alternative Communities Trade in Vanuatu), a local non-profit association, helps farmers like Moli earn an income by purchasing their products. Photo: Terence Malapa/World Vision