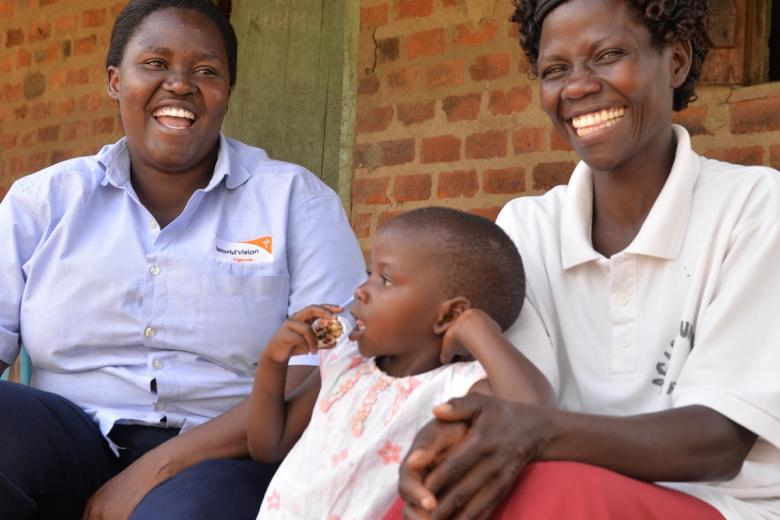 Traditional Birth Attendants: From dangers to saviours
Wednesday, November 15, 2017
As the Global Forum for Human Resources for Health takes place in Dublin, the people of Ireland can celebrate that their overseas aid has saved mothers and children in five countries.
By Derrick Kyatuka
Florence Auma Agoola, 60, had been a traditional birth attendant for more than 30 years and has lost count of how many babies she has helped deliver--all without formal training. In areas of Uganda where medical services were scarce or expensive, birth attendants like her were a godsend for pregnant mums. Seventy percent of Ugandans live in rural areas, but they are served by only 20 percent of the country's health workers.
"One day a woman invited me to her home to treat her illness but when I arrived, I found her in labour pains and she wanted me to help her deliver," Auma explained. "I had seen my aunt do it so I knew what to do. The woman had a successful delivery."
That first success was the turning point for Auma: more women invited her to their homes to help them give birth. Auma, though, had no proper equipment and was not prepared to handle delivery complications—she relied on traditional techniques.
"We did not have gloves and I used to wear polythene bags," she said. "I didn't have razorblades and so I used the sharp edge of sorghum stems to cut the umbilical cord." To stop bleeding Auma would get women to drink millet flour stirred into water. Techniques to free a retained placenta included splashing cold water onto the vagina and using a stick to cause the new mother to gag and clench her abdomen.
Florence Auma Agoola who has been a traditional birth attendant for more than three decades.
Do no harm
In 2010, the local government's district health teams organised meetings with traditional birth attendants to explain how dangerous such traditional techniques were to mothers and their babies.
"I count myself very lucky because for the very many years I worked as a traditional birth attendant no-one died at my hands," Auma explained. "After the meeting with the health team we were advised to stop and warned that if we failed to comply we were to be arrested."
Many traditional birth attendants had received food or other payment from grateful parents so the outlawing of their role meant they lost an income.
Trusted advisers
In 2011 World Vision, supported by Irish Aid, launched a maternal and health programme, called Access: Infant and Maternal (AIM) Health, in Kenya, Mauritania, Sierra Leone, Tanzania and Uganda to reduce the number of young children and women who die every year from preventable causes.
At the heart of this project was bringing vital health information to pregnant women and encouraging them to give birth at health facilities. Experts knew traditional birth attendants were trusted by mothers so they were invited to become evangelists for giving birth at health centres.
"I was given more training in health, sanitation and hygiene," said Auma, "then I went back to the community and told the mothers about the dangers they were likely to face during delivery, and encouraged them to deliver in health centres. Because they trusted me and they were assured of my presence at the health center they agreed to come for antenatal visits up to the time of delivery."
Edith Nabwire Oundo, 38, gave birth to her first child Rachel at home with Auma's help. When she called about her second pregnancy, Auma warned her against a home delivery. Edith said, "Because I trusted her, I followed her advice and when I went to the [health] facility, I found her there which made me more comfortable. I have delivered all my other children at the health facility."
Edith Oundo (l) delivered her second child at a health centre after Auma (r) told her it was the safest option.
Safe delivery
Sarah Llian Namukanja, 31, a midwife at Lumyo Health Centre for the past four years said integrating people like Auma into the official health system has made a major difference: "We used to only have 16 deliveries a month and I attribute this low turn out to the trust mothers had in the traditional birth attendants working in villages.  When the attendants got involved here we started with 80 deliveries a month, and, for the past two years we have seen an average of 120 deliveries per month."
She added, "They act as a bridge between us and the community as they continue to sensitise women on nutrition and hygiene." She explained the traditional birth attendants follow up with mothers to ensure they attend antenatal classes and then deliver at the health centres.
More to do
World Vision's AIM Health project officer Angella Akolla, 32, said that a combination of volunteer health workers delivering important health and nutrition messages door-to-door, and the influence of the traditional birth attendants has made a major difference to mortality.
"The Aim health project's target was to reduce neonatal death by 20% but we reduced it by 38%*; we aimed to reduce death in infants below five years of age by 20% but we reduced it by 44%* and maternal mortality was reduced by 22% since 2011," she said.
A pregnant woman is checked by a health worker during an antenatal visit.
Yet, challenges remain. According to Benah Nanyama, 40, the Assistant District Health Officer for Busia District, there are still traditional birth attendants performing home births illegally, especially in hard to reach places. She says that her office is working to share the good news of how effective this partnership between health centre staff and the traditional birth attendants is when it comes to saving lives.  
"I have seen mothers follow traditional birth attendants to health centers ," she said, "and I'm optimistic that if we stop the others from working from homes and instead come to health centers, the mother will follow them there too."
The AIM Health programme has been so successful that Irish Aid has agreed to fund a second phase of the project meaning that countless more mothers and children across Africa will have the chance to survive and thrive.
Sarah Namukanja (r), a health worker at Lunyo HCIII with Benah Anyama, the Assitant District Health Officer in charge of Maternal Health in Busia District.
* These relate to the LiST figures and it is important to note that the AIM Health programme was one major contributor to the drop, but other programming and interventions also contributed to it.