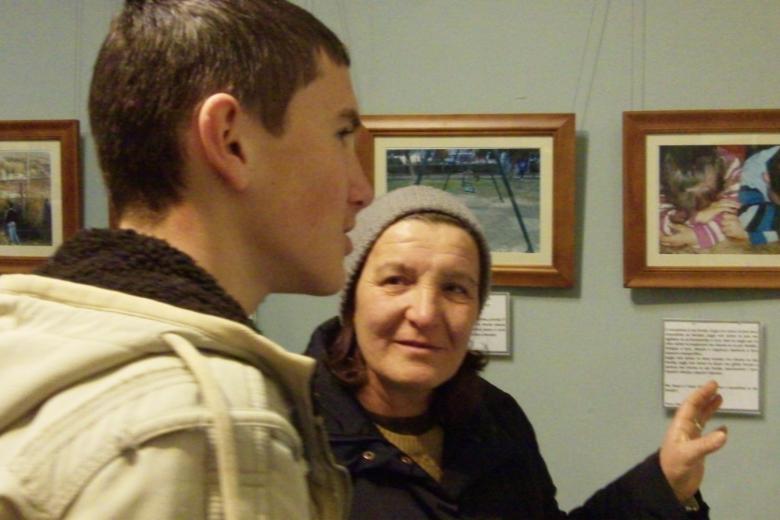 What's wrong with these pictures?
Tuesday, May 8, 2012
Cameras capture reality.  But the reality many poor children see every day is a reality most people do not or choose not to see.  Knowing this, twelve teenagers from Zejman, a village outside Lezha, used cameras to spotlight many problems they see in their realities that others either never see or often ignore.
"Many things make ugly pictures in these children's realities, such as poverty, child trafficking and child rights, pollution, etc.," said Gerta Trashaj, one of the twelve young photographers participating in the Photo Advocacy Project.The photo exhibition included about 100 photos mounted on the walls with captions.  The young photographers were mostly 15 years old from the same school in Zejmen village.  World Vision's Lezha Area Development Programme financed and opened the children-led Photo-Advocacy Exhibition called "Regress of Progress: Where is our society going?".  It was the first such program for Lezha.
Organizing the exhibition started in December and finished in February, in the palace of culture in the centre of Lezha.   Many guests (parents, teacher, the head of commune and people from community) visited the exhibit. 
"I am amazed at what I saw!" said Marie Lleshi, one young photographer's mother. "I cried when I saw their pictures hanging on the walls and I felt like-how smart and talented our children are to understand what goes wrong in this city and denounce these things better than adults. I never thought they would be able to take such beautiful photos, much less open their own exhibition like this," she added, admiring the photos.
As guests viewed the pictures, children explained the ideas behind them.  Children were very proud and appreciated the positive comments from members of their community.
"'Regression or progression?' is a very important topic in today's world. We chose it to make visible what people refuse to see in our reality,"said 15 year old Dioniz Bardhaj.  "We wanted to show two different possible directions; the way of regress and the one of progress. They are free to choose… but our goal is to help them to choose the right one."
"I think these children have exceeded the limits of what we expect from children of this age," said Aneta Gjonaj, a Lezha doctor."They have really surprised us with their achievements! They are revealing to us what we see every day but forget to notice because we are consumed in our everyday routines. It seems that nobody cares enough to point it out or speak out about it.  These children did so and I feel proud of them," she said.
The Photo Advocacy project ended with the exhibition, but the children are not done. They learned about how to advocate about things that go wrong and to help the community react to the problems just by showing their realities in their photographs. They now have joined another World Vision project which promotes child safety and security and child rights (PPA) which started in January 2011.These children have already had several training sessions about the new initiative.
"Many other children wantto become part of our group," said Ardian Jami. "They like this initiative and want to make their own contribution to do something useful in the community. I am very enthusiastic about what we are planning to do together!"
********************
For the last two years, World Vision has been part of the Photo Advocacy project that engages some of the most vulnerable youth in advocacy through photography. In partnership with Photo Voice, World Vision in Albania has provided a two month participatory photography project working with staff and the local community, involving three simultaneous courses of ten workshops. Attending these workshops are groups of ten 'interest groups' of under 18s from Kurbin ADP, one of the hardest areas in Northern Albania, and with the most vulnerable children in Tirana ADP (advocate against child trafficking) and most recently in Lezha ADP.
The intention of photo advocacy is to give youth an opportunity to artistically advocate and raise awareness on issues important to them.  They enhance their photography and creative writing skills, while gaining in-depth knowledge regarding the public policies around their issue. 
This project was successful because it engaged target groups that have always been hard to reach, and provided a strong base for advocating over sensitive issues while building life skills among youth in difficult circumstances. Partners and local leaders for the first time in Kurbin and Lezha were able to see, hear and understand some of the issues that youth are facing.