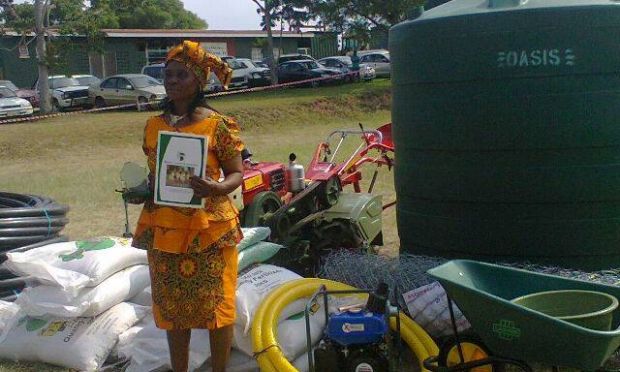 Normal 0 false false false EN-US X-NONE AR-SA
Patricia Simelane, one of the famers assisted by World Vision emerged the 2017 National Woman Farmer of the Year Competition and received prizes worth over E104 970 (US$7 498). She is from Maseyisini Area Program in the Shiselweni region. Seven other women farmers who won during the National Competition also received training and farming inputs from a World Vision-EU funded Project.
Patricia is a farmer and Treasurer of the Shiselweni Horticulture that assists farmers based in the Shiselweni region with advice and markets among other things. She has been commercially farming for five years now and stated that farming is more than a business to her but also employment.
She first bought 15 fruits trees because she didn't have enough money to buy more. World Vision came along and gave her 256 fruit trees and fencing equipment. The fruit trees included plums, nectarines and peaches. This is her third year hence she is enjoying the fruits now. Under her trees she grows vegetables and crops such as sweet potatoes for business and home consumption.
After training by World Vision, she became a voluntary trainer. She voluntarily goes around the country to help other farmers on how to do farming and how best to manage their business.
"The third prize winner is one of the farmers I have been supporting over the years. I was so excited when she won. I now realize the impact I am having on other farmers. After being trained by World Vision I realized that there were more farmers who needed the information and I availed myself," she said. She is also regularly invited to farmers' training workshops to help build their capacity because of her passion in farming.
Patricia also assists famers with book keeping to keep track of their profits. She said she believes that people should not receive food handouts but receive skills so they can work for themselves.
During the competition, she was not expecting to win. "I cried after the announcement. God has favored me. They played a short video showing my orchard with all the trees World Vision gave me and I was proud. Thank you very much World Vision - I am a celebrity overnight," she said in jubilation.
This project was implemented in five Area Programs – Maseyisini, Lubulini, Shiselweni, Matsanjeni and Mahlalini for four years and over 5 000 farmers benefited.
Her dream is to assist more small-scale farmers in the country especially women with better ways of farming using the Farmers Guide that World Vision together with the Ministry of Agriculture developed.
She is also planning to construct a warehouse to process her fruits and vegetables before selling to generate more money. She is dreaming of making vegetable atchar, fruits jams, chopped vegetable for supermarkets and canned and dried fruits. With this venture she is planning to hire staff to assist her meet the demand from the market.
As a member of the Shiselweni Horticulture she also speaks highly of the Shiselweni Horticulture and credits it for her attitude towards farming.
"I was greatly assisted by the Shiselweni Horticulture and they helped me with advice. That is where I learned that farming is a business. It also helped me to engage with other farmers because we have ample time to discuss and teach each other about farming," she said.
She has certificates in Agri-entrepreneurial skills and business planning and entrepreneurship and planning agricultural business. She has a cash flow book and keeps track of her finances as well as a record of chickens and goats that she has sold and all her other produce.