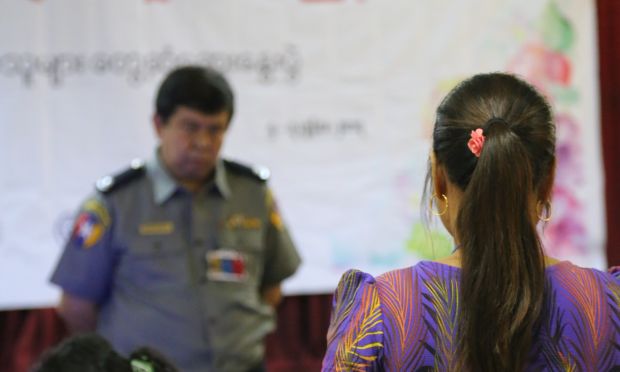 Anti-trafficking survivors' conference opens in Myanmar on 5 June
They'd spent months, years in silence.
They were silent when their passports were confiscated, when their pay never appeared, when they were beaten. Four years on a Thai fishing boat for Ko Ngwe*, six months as a trafficked bride in China for Kyi Kyi*. He was silent when he fell unconscious on a fatal fishing expedition; she was silent when she escaped China, leaving her newborn behind.
Years later, these two Burmese survivors are days away from attending a conference in Myanmar's business capital of Yangon where they will meet with 36 other survivors from 5-9 June. They will reverse years of silence by role-playing speaking out to authority – before traveling to the capital for an audience with Myanmar officials.
Between talks of healing from trauma, and learning about cash – which most survivors were long denied – the group will learn about Myanmar's justice system, legal recourse and government agencies tasked to prevent abuses the group endured for years – in silence.
In 2014, Ko Ngwe thought he was headed to work in a cement factory in Thailand earning 4.5£ daily - a small fortune compared to his spotty lumberjack work in southern Myanmar. But after five days confined to a dark room while his broker negotiated, he was sold to a Thai fish trawler for over 13,000£, money Ko Ngwe would never see, and a sum he couldn't fathom. One stormy night at sea years later, Ko Ngwe struggled to lift an anchor, jamming his arm in the chain. He lost consciousness before he knew his arm was severed.
When he regained consciousness, he found himself alone in a hospital with 3,000 Thai baht (68£) in his pocket. After settling the bill and finding his way back home to the outskirts of Yangon in Myanmar, he reconnected with his daughter. World Vision Myanmar helped provide him psychosocial support and a cart, which the trafficked fisherman now uses to sell bottled water.
For Kyi Kyi, newly pregnant, she accepted marriage to a Chinese man to pay off family debts. Six months later in China, after receiving only one-third of the promised sum (the rest went to her broker), she realized she had been trafficked. In her ninth month of pregnancy, an escape attempt earned her and her child in utero a beating. The baby survived, as did the mother. Kyi Kyi successfully escaped this time, but without her baby whom she left behind in the man's house.
She is now with family outside Yangon.
Ko Ngwe and Kyi Kyi will share their stories with other survivors at what has become an annual survivors' meeting since 2009 organized by the Myanmar government's Central Body for the Suppression of Trafficking in Persons (CBTIP) in cooperation with World Vision Myanmar and UN-Action for Cooperation Against Trafficking in Persons (UN-ACT).
In most places, participants keep silent about their recent past, but in these meetings, they exchange details about deceptive brokers, continued nightmares and admissions of self-doubt.
This year, they will develop recommendations for the government on how to best support survivors, and how to prevent others from being trafficked. And while the participants may have travelled to China, Thailand and other countries where they were trafficked, most have never visited their own country's capital, Naypyidaw. The group will travel there to present recommendations to government officials on 9 June.
Where, finally, they can break their silence.
* Not real names
Media interviews: We can facilitate interviews with survivors and Myanmar government officials.
Amy Collins, Coordinator of World Vision's End Violence Against Children Programme (English), Email amy_collins@wvi.org, Skype amylouiseco
Naw Phoebe (English, Burmese), World Vision Myanmar's External Engagement Officer, Email naw_phoebe@wvi.org, Skype phoebe.bryan71
For an interview with a World Vision child protection expert for East Asia, contact Phuong Tran, World Vision's East Asia Communications Director, Email phuong_tran@wvi.org, Skype phuongtran_comms, +66870560077 (English, French, Spanish, Vietnamese).
Background:
World Vision recently concluded a five year anti-trafficking programme in the Mekong that educated some 240,000 people in Cambodia, China, Lao PDR, Myanmar, Thailand and Vietnam, supporting on average 85 trafficked survivors each programme year return to their home countries. That programme has since expanded its focus to include other forms of violence against children, and is running in the above countries, plus Mongolia. Learn more
here
.
- end-