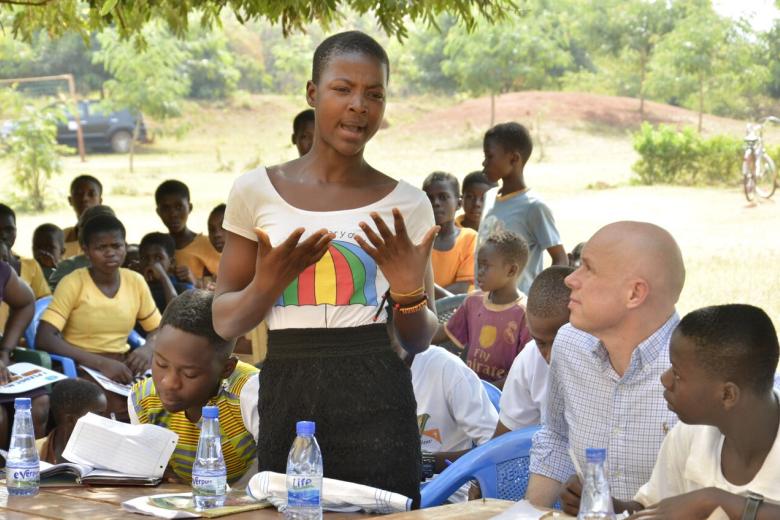 Balance Is Better And Essential To A Better World For Women
Thursday, March 7, 2019
By Andrew Morley, World Vision International CEO & President
The theme of this year's International Women's Day is "balance". It's an appeal for equity for women and girls: "Better the balance, better the world." I endorse this campaign personally, and World Vision promotes balance in every activity it undertakes. However, to achieve "balance", we must be unbalanced in tackling stubborn unfairness.
All children, girls and boys, deserve to live free from violence, fear and abuse. Yet girls all over the world are especially prone to threats like child marriage, genital mutilation and rape. Empowering women is an effective way to accelerate development progress. Yet women's access to land, capital, training and jobs lags far behind that of men, especially in deprived parts of the world.
When girls get a good education, they tend to be healthier, marry later and have fewer, healthier children of their own. Girls' access to schooling has improved vastly in the last 30 years. But they face even greater challenges in fragile situations – among refugees, in conflict zones and during emergencies.
World Vision is committed to emphasising the rights of girls and women to live in safety and be protected from harms that hinder them. We mobilise women in our livelihoods projects, encourage them to form savings clubs, preferentially enrol them in our VisionFund microfinance projects, and find ways to amplify their voices on matter which affect them.
And whether it's 'education in emergencies' and 'child friendly spaces', or simply homework clubs and help with literacy, our staff and local partners are looking out for the needs of girls in education where provision is still unbalanced.
Balance is better – and is essential if we want a better world.
Be inspired by empowering women's stories this International Women's Day here.