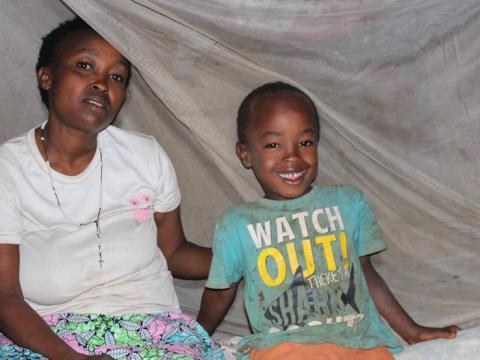 5-year-old Arian hasn't heard mosquitos noises for a while
Monday, September 11, 2017
''Duuuuuu, dhuuuuu,duuuuu''
 5-year-old Arian Ingabire imitates the noise that was made by a spraying pump that was recently used for indoor residual spraying in her bedroom to kill mosquitoes.
 More than 4.4 million people in Burundi, among whom more than 2 million are children, have already suffered from malaria between January and June 2017. Among the affected people, 1,987 have died, the World Health Organisation reports.
 In 2016, three out of every four Burundians were infected with malaria, with more than 8 million cases reported and 3,800 people killed by the disease.
 "The trend shows that if nothing is done, deaths and malaria cases are to increase of 10 per cent till the end of 2017," says Charles Berahino. World Vision Burundi's Humanitarian Emergency Affairs Manager.
 With the funding from the Aktion Deutschiland Hilft (ADH), a Germany's Relief Coalition, World Vision is responding by ensuring families in Gloriose's area can apply indoor spraying in their homes. Mosquito nets are also being distributed and malaria case management training is being conducted at community level.
''Since this spraying took place, we haven't heard the voice of mosquitos,'' Gloriose Nimbona, Arian's mother explains.
It's a sigh of relief for Gloriose, now that they don't have to be awakened by mosquitoes buzzing that succeeded to sneak into their mosquito nets or flying over their beds. Last year, one of Gloriose's other son, 12-year-old Armel, was twice infected by malaria. His temperature soared and a splitting headache left him groaning, making Gloriose fear her son would die. Twice, she rushed Armel to the hospital, where he was given lifesaving treatment and survived.
 Armel and Arian are part of World Vision's sponsorship programme in Cankuzo province in western Burundi.
 Gloriose says sleeping under mosquito nets is helping to protect her sons. The insecticide spraying adds extra protection to prevent mosquitos from entering the family's home. World Vision provided 58,000 mosquito nets to families – including Arian's family – to combat the malaria crisis. 50,457 homes have been sprayed by insecticide in the province of Cankuzo. Using World Vision's sponsorship budget and the support from other Donor countries, including Korea and Hong Kong; World Vision Burundi is targeting another 184,312 homes with the spraying activity in Rutana, Karusi and  Muramvya provinces, located respectively in the southeast, northeast and centre west.
 ''Malaria has become a crisis, this has never happened before,'' Gloriose says.
 Gloriose says she feels fortunate that her children have been spared from death during the malaria crisis. Other families have suffered losses, Gloriose reports. 
Gloriose witnessed the deaths of other children who arrived in the late stages of malaria at the health facility her son was being treated at.
Crisis in a crisis
 What has made the situation worse is a rampant hunger crisis that Gloriose's community has witnessed during the same period of the malaria outbreak.
''When people are hungry, their bodies are not strong enough to properly fight infections and diseases," Arian's mother says.
World Vision is continuing to respond to the malaria crisis in Burundi and helping families have enough to eat through farming short cycle resilient crops and highly nutritious foods and vegetables.