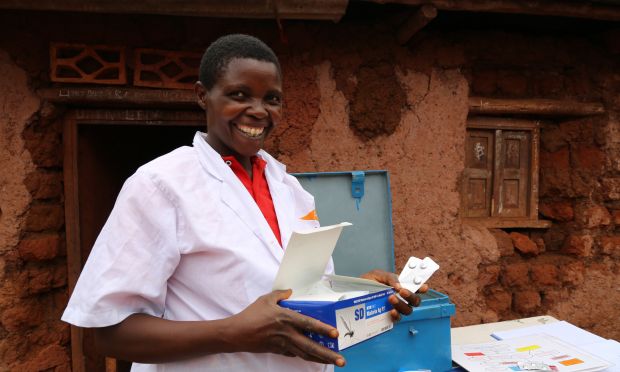 In the courtyard, in front of a modest house, in the rural area of Burundi, Josephine, a community health worker (CHW) is sitting at a table on top of which is a metal box containing a complete toolkit donated by World Vision to help fight against malaria. 
Josephine often takes her box outside to make sure everything is in place so as to avoid unpleasant surprises. The leaving room of her modest house is a little bit dark and does not allow her to see clearly, especially when it comes to writing. She has to give a report to her nearby health facility so that needed drugs can be availed on time. It would be unfortunate if her box ran short of drugs and she was unable to attend to the patients of her community.
Josephine, 43, is a resident of Ntunda hill in Ntunda ADP, northeast of Burundi who is committed to fighting against malaria in her community. ''Since we started treating children from home, no child from my hill has died of malaria,'' Josephine explains joyfully.
According to the World Health Organisation, more than 6 million people in Burundi, among whom more than 2 million are children, have already suffered from malaria between January and August 2016. More than 2500 among the affected people have died.
Since World Vision took cognizance of the outbreak, the organisation scaled up its integrated community case management approach, with a keen focus malaria management. This approach consists of treating 3 main killers of children under-five; malaria, pneumonia and diarrhea respectively.
Josephine, who is proud of being able to diagnosis and treat malaria that affects children of her community. Still remembers that, "We had similar outbreak of the disease 15 years ago and many people perished, especially children." Asked if she has background training in medicine, her answer is, "No. World Vision trained and equipped 108 community health workers including myself, throughout the whole commune of Gitaramuka to help us stop malaria in Burundi."
Josephine is always ready to help out whenever a malaria case arises on her hill. She explains that the donated tool kit that contains drugs, gloves, needles, solar torch, para checks, report forms, and other items enabling her to serve her better.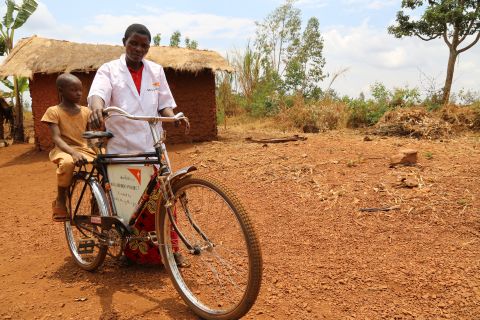 World Vision also supported her with a bicycle that eased her movement around the community to follow up with the children she has treated. She appreciates World Vision's support because, "The long distance used to be a major hindrance to the treatment of Malaria in the past as mothers had to walk long hours to reach the nearest health facility. Meanwhile, the child's health would deteriorate." She says that she also uses the bicycle to transport children to the health facility when need arises. "If their conditions do not improve, I refers my patients to the health facility, "she says.  
During the current malaria outbreak, community health workers are treating more children than before. Sometimes their metal boxes run short of drugs and so she is asking for more support from the Government and Donors to help them prevent a major crisis."