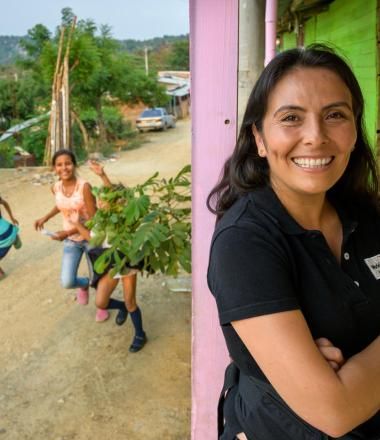 careers
Frequently Asked Questions
FAQs
How do I apply for a job?
We are always looking for qualified applicants age 18 and above. For salary and hourly positions with World Vision International, you can search for jobs, register, 'Introduce Yourself', and apply on our job postings site for positions of interest. 
To be considered for an open vacancy with our organisation, please complete the following steps to apply through our online application system: 
Find a job that you would like to apply to and click on the 'Apply' button.
You can choose to use your resume to autofill the application, apply manually or use your last application. 

If you have not registered previously, you will need to 'Create Account.' To do this, enter your email address, create a password and consent to our Privacy Policy. 

Once your application process is complete, your application status will appear in your 'Candidate Home.' 
What if I don't find a current open position that matches my skills and experience?
If you don't see a position that fits your experience, we still encourage you to create a profile. On our Job Listing page, click 'Introduce Yourself,' enter your contact information and upload your resume/CV. We will reach out to you if we find the perfect fit! 
You can also sign up to receive emails when jobs open that match your skills and experience. After logging into your account, click on 'Job Alerts' at the top and create a new Job Alert by entering the criteria for jobs you are interested in.
A position I applied to has been reopened. Do I need to apply again?
Thank you for applying to work with World Vision! You do not need to apply again, your original application will still be attached to the position and will be in our system for consideration. 
How can I update my contact information after I have submitted an application?
You can update your profile information at any time by logging into your account on https://worldvision.wd1.myworkdayjobs.com/WorldVisionInternational.
Once you have logged in, you can edit your profile information by clicking on 'Candidate Home' and clicking on 'Update Contact Information' or 'Edit Account Settings.' Remember to click 'OK' after any changes you have made. When you update your profile, this information automatically updates the positions to which you have applied. 
Help! I forgot my password.
To request a new password, click on 'Sign In' on our jobs listing page and click on 'Forgot your password?' Enter your email address you initially used to create an account and an email will be sent to you with instructions on how to change your password. 
How do I know if my application was received?
You will receive a confirmation email to the email address you used when registering. Please be sure to check your spam folder as well. You will also be able to check your application status in your 'Candidate Home.' 
Will I be notified as to the status of my application?
Due to the large volume of applications received, only short-listed candidates will be contacted. However, you can track the status of your application in your 'Candidate Home.' 
How can I see my past applications?
To see the status of your past applications, login to your candidate profile and go to 'Candidate Home.' You will see a list of your Submitted Applications with statuses. 
I have registered using a mobile device and cannot upload my documents:
Most mobile devices cannot store documents in the requested formats (pdf, word, docx). Therefore, we recommend that you login to your candidate profile using a personal desktop computer and upload your application files from a local folder. 
I saw a job advertisement for a role outside of the official World Vision careers site. How do I know if the advertisement is real?
While we do post on reputable external job boards/sites (i.e. LinkedIn, Indeed, Devex, Reliefweb, etc.), World Vision does not outsource its recruitment process to any organisation or agency which, through website postings, mass e-mail messages, newsletters or otherwise claims to be doing recruitment on its behalf. World Vision will only use approved and reputable executive search firms (exception basis only). 
Advertisements for vacant positions can only be found on our official World Vision International career website careers.wvi.org and/or on World Vision Support Office websites. 
World Vision does not, and will never, solicit money for any part of its recruitment processes including short-listing, interviews, background, and/or medical check-ups. 
World Vision will not be responsible for such fraudulent correspondence or any loss of money or theft which may result from anyone engaging in any fraudulent recruitment activity. 
In addition, please look out for email addresses not ending with wvi.org. 
Please be cautious, and if you have any questions and/or would like to report what you believe to be a fraudulent World Vision recruitment person(s) or agency, please email careers_support@wvi.org. (Please note that due to the number of emails received, you can expect a delay of 3-5 business days for our team to respond.)
Where can I find volunteer opportunities with World Vision International?
Thank you for your interest in volunteering! However, World Vision International does not currently offer volunteer opportunities. Some World Vision Support/Fundraising Offices have volunteer opportunities. Please contact the office of your interest directly by visiting "Where we work." 
What if I still have a career question or a technical issue with my candidate profile?
If you still have questions after reading all the Frequently Asked Questions, please email careers_support@wvi.org. Due to the number of emails received, please expect a delay of 3-5 business days for our team to respond.
Please do not send CVs/resumes to this email. All applications must be processed through our careers site.