Cholera cases diminish
Monday, August 27, 2012
By Djimte G. Salomon, World Vision Chad Communications
Health workers in Chad were used to cholera.
"God's grace is taking care of people because the water they drink is not proper for human consumption," says Benedicte Gagarya, the nurse in charge of the Gambaro health centre. "I see many women washing dishes or just collecting drinking water from the streams. I know it is not easy to ask them to stop doing that because we do not have alternative to offer."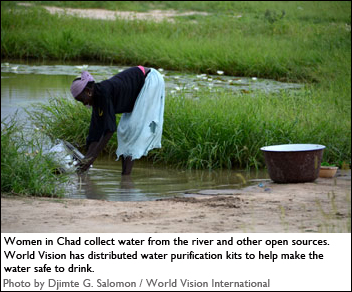 Communities in southern Chad are regularly exposed to floods because of large rainfalls.  A lack of water pumps mean people still get their water from open sources that are often dirty and carry diseases.
Oumar Gangan, a man in his 20s, lives in one of the villages regularly affected by the disease.

"We were just dead people before because we did not believe that all these things were in the water," Oumar says.
But this year, for the first time in recent memory, there are no cases of cholera in World Vision's working areas.


"This is good news that in the middle of the month of August, no cases of cholera have been reported in the country for the time being," says Dr. Nagorngar Justine, World Vision Chad health national advisor.
World Vision Chad distributed thousands of water purifier packs, along with soap and hypochlorite thanks to a Gift in Kind donation.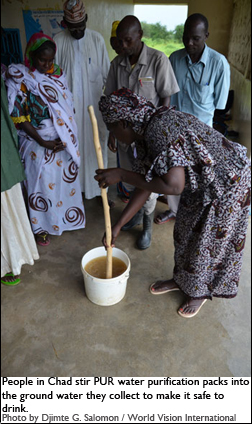 "I am sure that the soap and water purifier have an immediate effect on cholera outbreak here. Last year at the same period, we recorded 96 cases of cholera in our health centre," Benedicte says.
Many people have also attended World Vision awareness sessions about the benefits of drinking clean water and using PUR purification packs.

"What they see during the demonstration convinces them after 20 minutes. This is a real life saving assistance because we are here always exposed to cholera in our region," Benedicte says.
World Vision distributed 9,640 boxes of water purification packs to 61 health centres and hospitals in all the 15 Area Development Programmes.

"I believe among all the things that World Vision has done in our village, I believe this is the best gift ever given to our community," Oumar says, who has been using several packs of PUR in his own home.