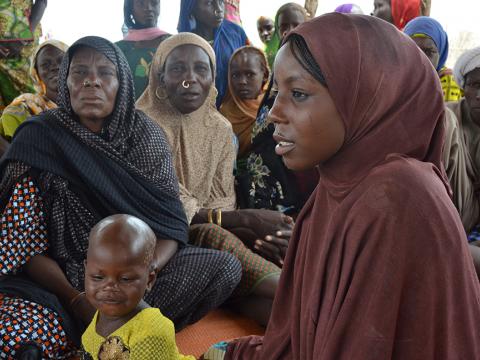 Face-to-face with mortal danger
Thursday, August 9, 2018
August 8, 2018- Three-years-ago, when she was a fifteen-year-old child, Bintu Kongoi was captured by the dreaded Boko Haram terror group, but lived to tell her story. I met her at  World Vision's Salia Child Friendly Space, where she shared her experience. 
Residents of Baga village, Bintu's former sweet home in Nigeria, that is two hundred kilometres from Salia refugee camp, carried on with their normal daily routines that included fending for their livelihoods.
Then deep in the cool of the night, when the sleep is sweetest, the dreaded Boko Haram struck Baga village, throwing everybody into confusion. They killed, maimed, destroyed and captured young girls.
"Me and my sister, successfully fled into the bush, knowing that we were prime targets for capture. Like other girls who had been kidnapped, we knew we would be taken away and forced into marriages," Bintu boldly shares.
 But the freedom in the bush was short-lived. Being naïve against the hardened experienced men, they were located, captured and brought back to where the rest were held.
"One of the menacing men wanted to kill me and kept threatening me, but another who was their boss dissuaded him, reminding him that we were girls and it was not right to do so," she recalls.
 "The men were eager also eager to rape us, which was terrifying. I composed myself and inspite of all we were going through, I pleaded with them to hold, on until the next day. I told them that me and my sister were their prisoners. This saved me from the traumatic experience" she recalls.
Before they were placed in a secluded room, they were informed that the following day they would be taken to the Boko Haram headquarters,  located within Sambisa village, where most of the captured girls are incarcerated. Bintu says that she knew if they ended up there, escaping would be impossible.
Executing a dangerous escape
Late at night when she realized a lapse in alertness, she nudged her sister and they took the great risk of tip toying away, which would have earned them instant death were they to be discovered.
 "Immediately we were at a safe distance, we ran for our lives to another village called Muguno. Imagine our distress when we discovered that the village was abandoned, as Boko Haram had attacked it earlier and villagers had fled," she says.
Without rest, the two girls spurred on by imminent danger proceeded to Maiduguri, one of Nigeria's major cities.
But the fear of Boko Haram, led them to cross the border into Chad, where they proceeded to Salia, a place where World Vision is responding through the Lake Chad Basin response.
"Believe it or not, my mother found her way later to this place. Really blood is thicker than water," she says, as her elderly mother, seated next to her, nods in agreement.
The two, flanked by other refugees and displaced people whom we met at the Salia Child Friendly Space, are grateful to World Vision for providing a place for their children to play.
" World Vision has reached out to us with love. Our lives would be worse if they and other humanitarian organisations that are supporting us, were not there," another Nigerian who is seated next to her and also fled Nigeria, home-country, says.
Michael Arunga, is a communications consultant with World Vision Chad.