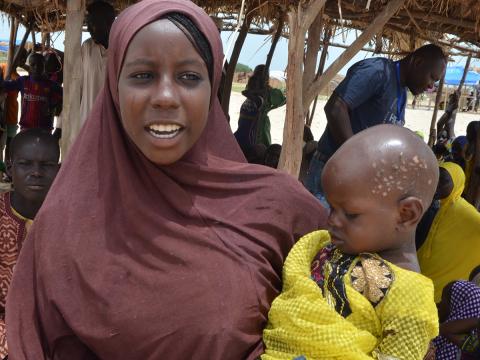 Hope amidst shattered lives
Saturday, August 11, 2018
August 12, 2018, N'Djamena, CHAD- The lives of citizens of four West Africa countries: Chad, Nigeria, Cameroun and Niger, with rich cultures, knit together by a common language use of the official French, has been shattered by the dreaded insurgent group, Boko Haram. 
 This terrorist group strikes with impunity, leaving a wake of destruction and despair. But amidst the hopelessness, are stories of resilience, determination and hope, spurred on by World Vision interventions that have targeted internally displaced people, refugees and their host communities.
18-year-old Bintu Kongoi can easily be dismissed within a group, as your ordinary, shy, West African beauty. Beneath the veneer, is a moving story that captures the tragedy of Boko Haram victims, who fled from their home country, Nigeria, and are now refugees in Chad.
"Three years ago, we were an ordinary Nigerian family, striving to live honest, normal lives. One day in 2015, the terror group attacked our village and forced us to flee in different directions," she opens up, as her countenance drops.
As a young girl of 15, recalls everybody within their family striving to save themselves from what they knew would be a painful obvious death if captured.  Being close and a playmate to her, they coincidentally fled from their home, in Bago village, in the same direction, hiding in the vicinity of the same bush. 
"I was lucky to re-connect with my sister, but not with my dear mum, nor the rest of the family. Knowing what happens to young girls who are captured, we fled," she recalls.
As they made their way through the bushes, fate struck when they were re-captured, thwarting their plans.
"We were taken back to the village and put together with other girls who had been caught. My sister and I knew that we were now faced with the worst" she says.
The fear of being sexually violated, forced into early marriages, never seeing their families again and losing their freedom, motivated them to risk death and severe consequences and escaped in the night, making their way through risky routes, to the Salia refugee camp in Chad.
Families will not to return to their homes 
Bintu's story is similar to 37-year old, Yawolly Alhadji Nassour, originally from Nigeria's Kawkila, which is about a hundred kilometres from Chad's Salia village. 
Like Bintu Yawolly's countenance drops when he recalls the day they fled. He goes quiet and his mood is pensive. Behind the pensive mood are challenges that have been faced in exile, including the death of his dear wife to an illness in 2017, coupled with a possibility of never seeing family members they left in their home-country of Nigeria ever again.
 "In 2015, our village was also attacked, deep in the night. We successfully fled while carrying our children on our backs, crossing rivers and forests until we arrived to Salia," he says.
He is grateful to humanitarian organisations including World Vision that have offered support to them, making their lives somewhat bearable.
"I will never return to Kawkila. Never! Even though we have left close relatives there, I do not know whether they are alive or dead, I do not want to know," he sternly says.
His greatest desire is a safe environment where there is no risk of an attack by the terror group, which has brought anguish, divided families and robbed children of their innocence.
Bintu and Yawolly, represent over 400,000 IDPs, refugees and host communities that are receiving World Vision support through the Lake Chad Basin Response. World Vision is supporting child protection, food security and resilience projects and providing clean water, sanitation and hygiene services. 
 By Michael Arunga, is a communications consultant with World Vision chad.