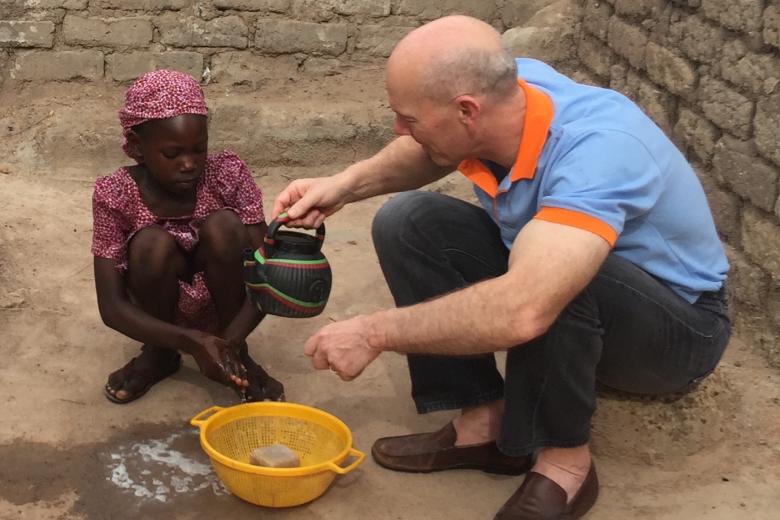 Poverty Is Not Discouraging Hopeful Nora
Tuesday, July 3, 2018
Chad's poverty index, one of the worst globally, has not discouraged Nora Abdillahi, World Vision Chad's eleven-year-old sponsored child. Her focus is firmly cast on being a school teacher.
" I am determined to become a school teacher, who promotes education that transforms our community," says Nora who was selected from  29,000 World Vision Chad sponsored children to meet with the organisation's President, Kevin Jenkins.
Nora who lives in Bologo region within Moundou area is the first born daughter of Abdillahi Yahya, a respected Muslim Sheikh.
Although her father is a Muslim leader, he has enrolled his daughter Nora into a local Catholic primary school. He is full of praise for World Vision, an organization that has not segregated her on religious grounds, which has contributed significantly to her father's openness about her education. 
This young girl's determination, heralds anticipated changes in gender empowerment in an area where retrogressive cultural practices, including early marriages have stunted women's empowerment efforts and slowed down the achievement of the Sustainable Development Goal (SDG) on gender equity, especially for women.
Nora's father has taken the bold decision to transcend differences in religious beliefs, and despite  of his social standing, has openly collaborated with a Christian organization where others may have feared to tread.
 " My support for World Vision is because of its great development agenda and community transformation efforts, whose outputs are crystal clear," Abdillahi, who proudly sits next to his wife and daughter says.
Abdillahi has not only allowed his daughter, who is in grade 4, to attend a Catholic school, he has also broken tradition and opened up the mosque to World Vision, for its trainings. This demonstrates pure collaboration and understanding between two divergent faiths and exemplifies World Vision's networking and partnerships with all stakeholders that is in-line with its core value of valuing people.
Abdillahi, a father of three daughters in a patriarchal society, is a reflection of positive changes in attitude, prompted by World Vision's work.
World Vision Chad's transformational interventions that have helped change people's perceptions of towards the organization include health and nutrition; Water, Sanitation and Hygiene (WASH), Education; and, Livelihoods.
Healthy, eight-year-old Jarando Amon, whose community benefits from a World Vision Chad supported clinic within Moundou is all smiles. Jarando is thankful to World Vision for the good health which he says enables him pursue education.
Photo and article By Michael Arunga – Communications Specialist, World Vision Chad