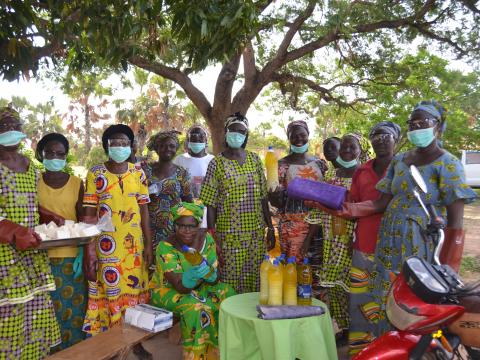 World Vision Chad supports women association groups in Mandoul
Friday, September 16, 2016
Mandoul is one of the southern provinces in Chad, which has distinguished itself by the dynamism of its women. World Vision is present in the region since 2001. In previous years, World Vision brought spontaneous support, but since 2010, following the assessment of the impact of World Vision's activities in the region, it was found that women taken together were a force, and that force would be the development asset of the region. The first phase of this approach has been to identify various Women Association groups, then trained them on practical various hands local products processing. To date, World Vision has identified and is working with twenty Women Association groups, firstly the DIAN-BIAL (woman does not sleep) Women Association, located in DOGUERE KOUMRA, which main activities are the processing and trading local products, such as soy, shea, Moringa, etc. Secondly,  DIAN-RAHO (woman can rise and do aswell) Women Association, located in Massa-Mission, which in addition to processed local products sales, has trained some of its members in other craftsmanship areas such as dyeing , carpentry, sewing, to maximize gains. Thirdly, we can mention a special group, the OTONGANI (take care of your children)Women Association group of the MOSSYARA Village, which practices a kind of micro finance in kind.
As a result of this first phase support, many women gained in confidence, and dignity. " Words are weak to tell you how better I feel now.  I  was a housewife and my husband was the sole breadwinner of our family, personally I've been threatened many times by my family-in-law, that they will look for another wife for him, as I'm just staying at home and consuming his money. You know every marriage has it's own challenges, at that time when my husband and I had some disputes, he would go for work the following day without giving us money. To be honest with you, I felt useless. It's in the midst of those hardships that a friend of mine talked to me about how World Vision supports women association groups, and how we could set up one in our area, to be eligible for the training. After all the legal procedures, we got trained. Thanks for this support, because today with the profits of our sales I can buy my children school fees, tuition, and take care of my family. Recently, something very significant  happened: my husband was sick and he waited for his salary to be paid so that he could go to hospital, but on due date, the company postponed the payment to some days later. As days were going he felt more and more weaker, after a market day we made a huge profit, so when I went back and took him to hospital; he spent some days there and  when they brought the bill, I felt honored to pay, even when nobody in my family-in-law was willing to do so. Since that day the dynamic of our marriage changed; for you this may  just seem to be a support, but let me tell you something, it gave me back my respect and dignity'' said  Rodjete Sidonie, the carpenter of DIAN-RAHO Women Association group.
Now, Women's Association groups supported by World Vision in the Mandoul region are productive but they are facing some difficulties in selling their products at the regional level and national level, in  research of funding and in the effective management of their organisations.
For this purpose, on the 21st June 2016, was held in Mandoul Cluster office a training session on "Designing micro projects and fundraising". This training, marks the second phase of this approach, 37 women representing 12 Women Association groups were selected to participate, and the training was facilitated by the partner of the National Rural Development Office (NRDO), Mr SAYANAN MAYAMBANG. After teachings, all the participants were divided in work groups to design micro-projects. Each women's group wrote an IGA (Income Generating Activities) micro project, to relate practice to theory. Projects submitted were screened by World Vision (Mandoul Cluster), with the assistance of a joint commission made up of various partners, such as the National Rural Development Office (NRDO), the Training Center for Rural Promotion (TCRP), la Cellule de Liaison des Femmes (CELIAF), Berger Eden Association (ASVED). After the screening, 10 Women Association groups have been selected to receive funding in kind from World Vision. The funding in kind include Shea nuts, peanuts, and small ruminants (sheep and goats) for their IGA micro projects, and will be handed by September 05th2016.
In order to consolidate this second phase based on the capacity building of these women association groups, an additional training on the topic: "Organisation, functioning and management of resources"  has been held on August 25th, 2016 at "Centre de Lecture et d'Animation Culturelle  de Koumra (CLACK). This training was facilitated by SAYENAN MAYAMBANG, of NRDO and Mr Hau GALI FIDEL, the manager of the "Caisse d'Epargne et de Credit" (CEC). This time around the training was extended to 15 women's groups represented by 45 participants. The purpose of the training was to strengthen the capacity of women in the organisation, operation and management of their resources in the integrity, transparency and loyalty as a group.
As a promise is due! In this September 5th 2016,  took place the funding in kind hand over ceremony to various groups in World Vision Cluster Office in the presence of partners who have supported the process since its genesis namely: the trainer Mr SAYENAN MAYAMBANG, the Monitoring and Evaluation Officer of Social Action Delegation, representing the Regional Delegate of Social Affairs, and the President of CELIAF Ms. ALTEMBAYE TANDANOUM, the Coordinator of the ASVED, Mr KASRAM DOMINIQUE, the Tob Radio's Journalist Mr. SERGE NGUE-IT and beneficiaries.
Yes! one of the greatest assets for development in the Mandoul region, is surely these women, who are working hard to change everyday social conditions in which they, their children, and their communities live in. It would be interesting in the future to see how many indirect beneficiaries like Sidonie's husband and children were affected by these various trainings and funding in kind as we wish it would have a multiplier effect.