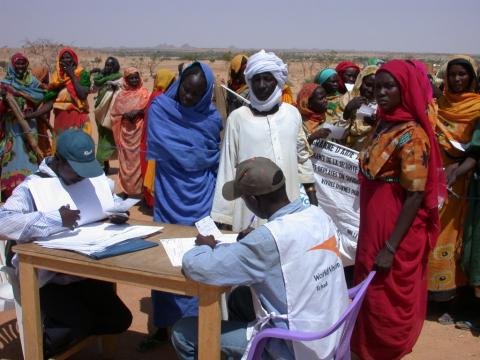 Lake Chad Basin Response
Context
Since 2015, attacks in Chad by the jihadist group Boko Haram, has led to the deaths of hundreds, displacement of over a 100,000 and damaged the regional economy of the Lake Chad Basin (LCB). Current consequences of the crisis in the LCB have been catastrophic. Approximately 179,000 people have fled their villages (internally displaced persons, returnees and refugees). The majority of IDPs are cut off from their livelihoods. Women and girls have experienced atrocities.
In 2017, about 578 cases were recorded. Since January 2017, protection cases recorded in the areas of displacement were more than 2,000. There is limited access to basic social services (education, health care, water, hygiene and sanitation). Extreme poverty and the absence of development initiatives are root causes exacerbating the current humanitarian crisis. Due to the low level of funding, by the end of 2017, several needs remained unmet. By the end of this year,  about 33% only of funds required (a total of US $ 121 million) to meet the LCB's needs were sourced. However, the multi-sectorial assessments conducted by the Inter-Regional Cluster, the Rapid Response Mechanism (RRM) and other humanitarian partners on a new development of the situation since the beginning of 2017, shows that there are always new vulnerable people living in very difficult conditions, who need access to humanitarian assistance.
The summarized figure below is recent. It was developed in Bagassola by humanitarian organisations, led by OCHA. It involved, among others, 46 humanitarian actors who included 10 from United Nations Agencies, 17 from international NGOs and 19 nationals.
Brief Focus on World Vision's LCB Response
World Vision has responded within the Lake Chad Basin (LCB) region since 2016. Previously, it was categorized a a an extreme emergency. That is a CAT 3 emergency with a global response across two countries: Niger and Chad. Since then, many activities continue being conducted. Below is a summary of activities. All this is aligned to two sectors, which are the focus. Four Projects are underway with $ 850,000 as the total budget.
Child Protection
Conflict has displaced communities, adversely affecting citizens, including children In the Child Protection sector, WV Chad works with communities and faith leaders to increase child protection awareness and training. World Vision has established 2 Child Friendly Spaces with the required equipment (2 horizontal swings, 1 slide, 2 swings with wheelchairs, 3-piece swing). This offers a safe and secure environment to children of 1430 beneficiaries that World Vision supports.
Food security and resilience
Lack of access to food and economic development opportunities for the poor have led to malnutrition and disease, extra vulnerability and lack of happiness. Children have had limited access to food. Households report selling of assets to pay for food. WV Chad supports such communities to be more resilient to enable them use the savings group approach, which entails organizing communities generate their own income, to satisfy their basic needs.
Water, Sanitation and Hygiene Projects
Poor access to water and sanitation leads to diseases. Women and children travel to fetch water around three kilometres away, taking about an hour. Households do not have sufficient household level water transport and storage vessels. With the support of World Vision US and Germany, 7 boreholes have been drilled in Fende, Selia, and the surrounding sites of Ngouboua for 6500 beneficiaries. This includes IDPs, returnees and host populations, who now have access to safe and clean water.  Six water point management committees composed of 5 members have been set up to manage the water points and raise funds for repair, if they break down. Hygiene promoters have been set up to raise communities' awareness on good hygiene practices.