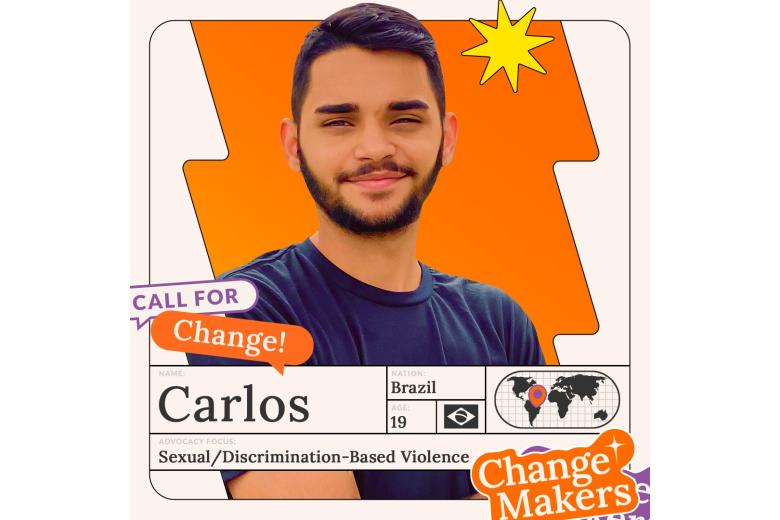 Carlos
Saturday, April 22, 2023
Since he was 14, Carlos has been a member of a social accountability movement in Brazil that holds community leaders liable for their decisions and has contested discriminatory practices and bullying at school, especially related to gender, race, and sexual orientation. Now 19, Carlos continues to be a Changemaker, empowering children and youth to change their lives and take actions to end violence against children.
Q&A with Carlos
lightly edited and condensed for clarity
What is your favourite food to eat? 
Brazilian barbecue.
What is your favourite thing to do for fun?  
Hang out with friends and family.
Who is your favourite actor/singer/dancer/influencer?
Coldplay and Bruno Mars.
What is your favourite memory from your childhood? 
When I used to play with my friends that we were part of a TV show, with many tests and challenges.
What would you tell a future Changemaker? 
If you are or will be a Changemaker, you've already done a lot for your community, your city, or this world. Look where you are, where you arrived. We are on the right way! Fighting for ours, giving spaces to those who already have a voice but are not heard. Keep going!
What is the issue you advocate on and what made you decide to take on this issue? 
I have always debated about discrimination because I live in a country of blatant social inequality. Bullying is common at school, women are looked down upon for being women, they earn lower wages than men, people suffer and develop psychological problems because of their colour or race and are attacked for their sexual orientation.
I fight for the end of child violence because the future of this planet lies in every child.
What would you say to leaders if you had the chance to talk to them directly? 
Day after day there are children and adolescents being violated. Whether at home, at school, in the community or in other spaces – exactly the places that should offer comfort.
We have to fight and be examples of resistance so that all children and adolescents become the protagonists of their own lives, passing on knowledge within their community. We also live in a world where everything is very fast, and if we are not fast, we lose our turn. Therefore, let's not give up and try to learn ways to attract the attention of these people to get our message across.
What is something you hope to accomplish in 1, 5, 10 years?
I hope to have completed my degree in dentistry, developing social projects for children and young people. I hope to be fluent in the languages ​​I study and to start studying new languages. I hope that the rights of children and adolescents be more respected and that they can be part of the decisions within their homes and are no longer strongly affected by violence that compromises their development and future.
What is the most encouraging thing that has happened during your work with this issue? 
In every action we find courage to reduce the damage caused in the lives of these children who are victims of violence. But I can quote a recent chapter when I was in Argentina participating in an event where the rights of adolescent and young children were involved, and after my speaking moment two little boys came up to me, asked me to sign their shirt, and then one of them said, "When I grow up I want to be like you and visit you in Brazil."
What five words would you use to describe why the issue you work on is so important to you? 
Future, Dignity, Dreams, Possibilities, Strength.
What challenges have you encountered in your advocacy work?
I started my advocacy work very early, so when I tried to take matters beyond my home, I was not given importance, because I was young, being a child, then a teenager. Unfortunately, few spaces value the opinions of those who are fully involved in the matter.
What would you say to yourself 5 years ago? 
Stay firm in your research and social mobilisation work, as the result of these actions will positively impact the lives of many children and adolescents, making them the protagonist of their own lives and leaders in their communities by giving them some perspective and sharing your knowledge.
Do you advocate alongside other children and young people, and how do they inspire you? 
We are fuel for each other.
We work with several children, adolescents and young people from the same community, but also with other people from different cities, states and several other countries. They inspire me by telling their stories, demonstrating their bravery, their ways of innovating to work with the subject. They inspire me when they travel and can be a symbol of struggle in another reality, taking with them all their experiences, and presenting the realities. They also inspire me when I see the result of their work, when I see each one growing and becoming a wise being.
If you could pick one personal memory or achievement around ending violence against children, what would it be? 
Children full of life attending school, coming and going, without risks that could compromise their development and take away the innocence of a childhood.