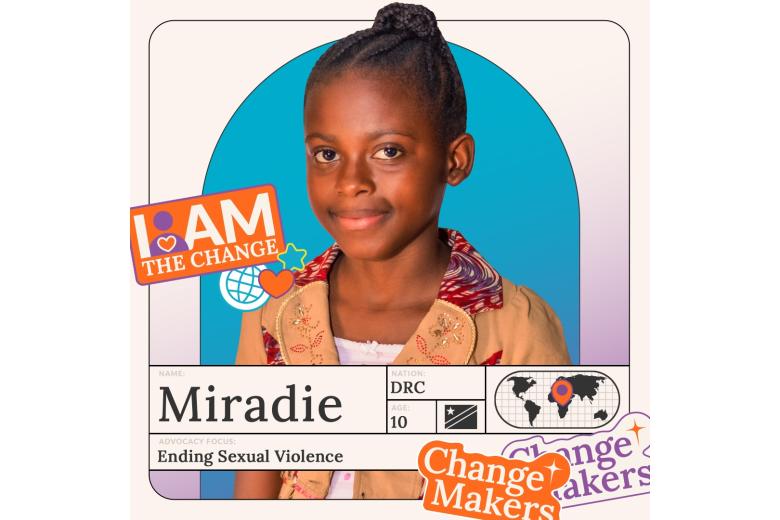 Miradie
Wednesday, May 10, 2023
Demanding an increase for child protection funding in the office of the Minister of the Budget, asking the 1st lady of the Democratic Republic of the Congo to accelerate implementation of the law on sexual violence, and meeting with the police to press for the end of child exploitation in the narcotics trade, at 10 years old, Miradie has been a busy Changemaker.
Q&A with Miradie
lightly edited and condensed for clarity
What is your favourite food to eat? 
My favourite food is beans and rice.
What is your favourite thing to do for fun?
For fun, I play with my dolls.
Who is your favourite actor/singer/dancer/influencer?
My favourite actor:  Dora.
My favourite singer: Miraculeuse.
My favourite dancer: Rebo.
My favourite influencer: Madame Vadescky.
What is your favourite memory from your childhood? 
My 9-year-old birthday party.
What would you tell a future Changemaker?
What I can say to a future changemaker is that he should never let someone destroy his dreams.
What would you say to yourself 5 years ago?
I have acquired public speaking skills and knowledge in the sector of child protection.
What is the issue you advocate on and what made you decide to take on this issue? 
I am advocating on the issue of economic exploitation of children and sexual abuse. I decided to tackle it because it destroys the growth and well-being of children.
Why is ending violence against children and the issue you advocate on so important to you? 
The most important thing for me in defending my peers is their wellbeing and the development of my community.
What difference would you like leaders to make to create real change on the issue you advocate on?
Leaders would create jobs to give parents the opportunity to work to not only meet the needs of their children but also mitigate the phenomenon of economic exploitation. They must put in place various strategies to disseminate and raise awareness on the existence of laws that punish the economic exploitation of children and sexual violence.
What would you say to leaders if you had the chance to talk to them directly? 
I would tell them to get involved in the situation of children who are victims of economic exploitation and violence by making parents aware of the rights and duties of children because some of them are unaware of their children's rights.
What is something you hope to accomplish in 1, 5, 10 years?
In my personal life, I would like to go to university to study law in order to better equip myself with the notions of rights to enable me to properly defend the cause of children.
In my advocacy work, I would like to see changes and responses to all the problems discussed with the authorities defending the wellbeing of children.
What is the most encouraging thing that has happened during your work with this issue? 
I am pleased that the decision to ban the sale of strong liquor by children on National Road 1 was implemented in Mbanza-Ngungu (Kongo Central province). I advocated for this, and the police commander took the decision to prohibit the sale of liquor involving children on this road especially in Mbanza-Ngungu.
What five words would you use to describe why the issue you work on is so important to you? 
Defence, change, development, knowledge and evolution.
What is the funniest thing that has happened during your advocacy work? 
The most amusing thing was to see the Minister of Human Rights make me sit on his chair. And the Minister of Social Affairs calling me Denise junior (Denise is the first name of the DR Congo first lady) and the smiles on the faces of the different authorities at each memo reading when we hold advocacy meetings with them in their offices during the organisation of the National children's forum supported by World Vision DRC.
What challenges have you encountered in your advocacy work?
The culture of the environment in which we evolve. Our community is still in the traditional conception and is struggling to modernise.
Do you advocate alongside other children and young people, and how do they inspire you? 
Yes, the advocacy is done with other children. They inspire me a lot. I am inspired by their courage, their motivation.
If you could pick one personal memory or achievement around ending violence against children, what would it be? 
In our community, when a girl gets pregnant while still studying, her school chases her away and does not take her back when she wants to return. I advocated with the sub-division of the Ministry of Primary and Secondary Education in Mbanza-Ngungu in Kongo Central province so that girls who got pregnant while studying could be accepted into school and study like the others.