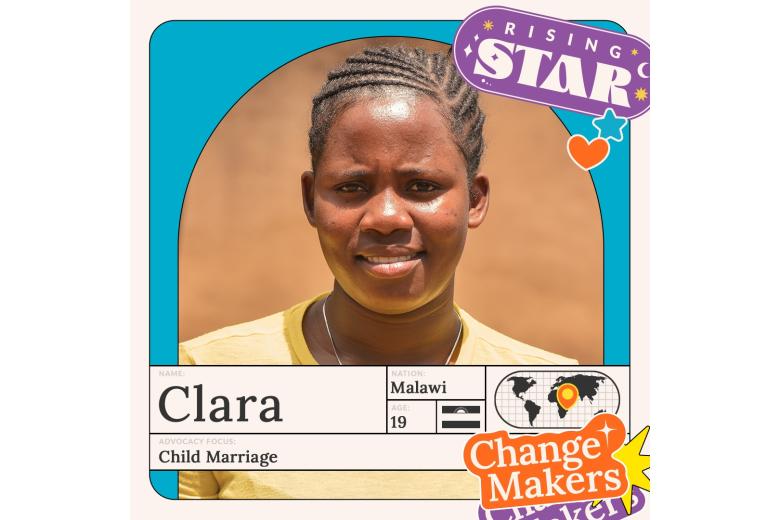 Clara
Saturday, April 22, 2023
For over three years, Clara has been raising awareness about Child Marriage in Malawi and her own painful experience as a survivor of it. As an agent of change, she encourages fellow teen mothers to return to school, hoping to empower them. Now 19, Clara is proud to have helped stop 86 child marriages.
Q&A with Clara
lightly edited and condensed for clarity
What is your favourite food to eat?
Nsima and rice with local chicken or beef.
What is your favourite thing to do for fun?
Watching TV, playing netball, and singing.
Who is your favourite actor/singer/dancer/influencer? 
Makhadzi from South Africa.
What is your favourite memory from your childhood? 
When my dad used to sing for me using local guitar.
What would you tell a future Changemaker?  
Deal with the root causes of violence against children and economic empowerment for youth and poor households.
What would you say to yourself 5 years ago?
I was like a lost child when I was impregnated and gave birth to a son at a young age.
What is the issue you advocate on and what made you decide to take on this issue?
Ending child marriage - go back to school campaign. It creates opportunity for children to achieve right to life and education. To enable children to continue with their education as well as enjoying good health.
It is because early pregnancy and marriage for younger children is risky, but this is common in my area.
What would you say to leaders if you had the chance to talk to them directly?
Continue advancing issues to do with child violence.
Support children with school basic needs such as reading, writing materials and school fees but also put in good laws that will stop child marriage in Malawi and beyond.
What is something you hope to accomplish in 1, 5, 10 years?
To pursue a degree course in social work, nursing, and continue advocating against child marriage.
What is the most encouraging thing that has happened during your work with this issue?
I have seen many girls going back to school. And receiving good support from peers and community at large on ending violence against children.
What challenges have you encountered in your advocacy work?
Mobility challenges to reach distant places and the lack of school fees for those children withdrawn from early marriages.
Do you advocate alongside other children and young people, and how do they inspire you?
I work alongside my fellow teen mothers, youth groups, and other children. They are hardworking, supporting to achieve our common goal on ending violence against children.
If you could pick one personal memory or achievement around ending violence against children, what would it be?
Withdrawing of 86 children from early marriages.