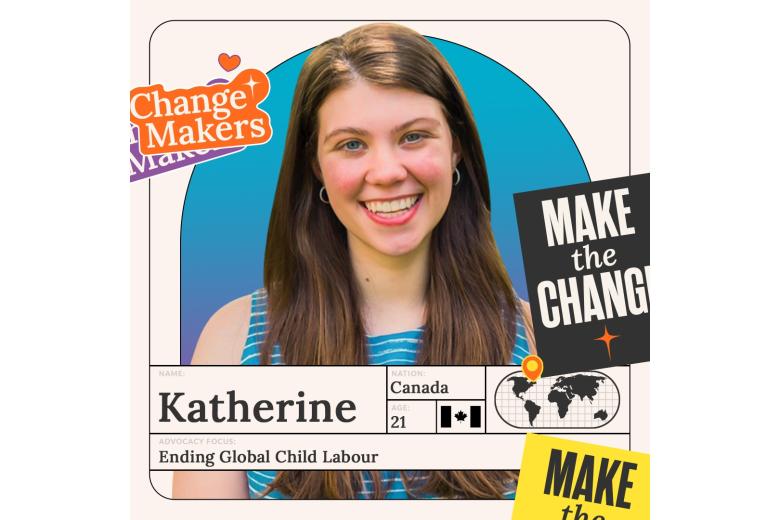 Katherine
Tuesday, May 9, 2023
Katherine, a 21-year-old Changemaker, advocates for ending  global child labour with Canada's National Youth Council. She mobilises support through social media and TV interviews and advocates directly to MPs, senators, and the Minister of Labour to pass legislation that would make it more difficult for businesses to hide their use of child labour in the making of their products. She hopes that this transparency will lead to the end of child labour in Canada's supply chain. Katherine is excited to be continuing her work with her Youth Council this year as their Government Advocacy Specialist.
Q&A with Katherine
lightly edited and condensed for clarity
What is your favourite food to eat? 
Candy.
What is your favourite thing to do for fun?  
Travel, see new places, and meet new people!
Who is your favourite actor/singer/dancer/influencer?
Singer – John Mayer, Vance Joy and Billy Joel.
What is your favourite memory from your childhood? 
The day I finally conquered the monkey bars at the playground. I had been working on this forever!
What would you tell a future Changemaker? 
Change doesn't always occur in a confetti-popping way; change is slow and takes time. Celebrate the small wins in advocacy!
What would you say to yourself 5 years ago? 
Talk to everyone, but also know the power of listening. Learn what motivates people, what makes them happy, and lead in a way that makes people want to join your movement.
What is the issue you advocate on and what made you decide to take on this issue? 
I advocate on the issue of child labour. Despite what many think, Canada is involved. I have worked with World Vision to advocate for supply chain legislation, giving transparency to consumers. I took on this issue when World Vision Canada's Youth Council was involved and have continued to work on the political side of getting the proposed bill passed! Child labour is on the rise for the first time in 20 years, so it is important now, more than ever, to protect these children.
Why is ending violence against children and the issue you advocate on so important to you? 
I grew up as an active child and learned how important it is that children get the opportunity to play and learn in ways that they enjoy. I grew up going swimming, learning piano, playing at the playground after school. I not only learned so many life lessons through play but developed many wonderful friendships and memories. Now I teach young children at swimming lessons and see the importance of every child living stress free and protected.
What difference would you like leaders to make to create real change on the issue you advocate on?
Urgency! Child labour does not sleep or sign off from work at 5pm. While we have the ideas, we must move at a pace that allows Canada to protect the most vulnerable, now.
What would you say to leaders if you had the chance to talk to them directly? 
I have! There are some leaders that are wonderful champions in Canada. They are willing to listen and to work to achieve a country that is not involved in child labour, and for that, I thank them.
What is something you hope to accomplish in 1, 5, 10 years?
To continue living life on purpose. In so doing I hope to embrace the things that I am passionate about, share my enthusiasm for making this world a better place and encourage others to join me on my journey of change.
What is the most encouraging thing that has happened during your work with this issue? 
Working with a motivated team and engaging with Canadians in a meaningful way as we call on government to implement supply chain legislation – the public response has been so encouraging and motivating!
What five words would you use to describe why the issue you work on is so important to you? 
Fun, Freedom, Play, Responsibility, and Protection
What is the funniest thing that has happened during your advocacy work? 
I was visiting a community in Ghana with World Vision. As a thank you to our group, the community gifted us the largest sweet potatoes I've ever seen (bigger than the size of my head) and live chickens to go along with them!!
What challenges have you encountered in your advocacy work?
Often as advocates we are so passionate, and we want to see change overnight. While advocating for supply chain legislation, I have learned about the process of enacting change in government and the tremendous work that goes into even the small steps. It's important for us to recognize this and to celebrate the small wins along the way.
Do you advocate alongside other children and young people, and how do they inspire you? 
The World Vision Canada Youth Council is composed of many wonderful and inspiring young people. They have played a huge role in the project and have been sources of encouragement both in their work with World Vision and in their advocacy.
If you could pick one personal memory or achievement around ending violence against children, what would it be? 
During COVID-19, our activism activities had to get very creative as we were so limited in what we were able to do. One of the more creative campaigns developed by the World Vision Canada youth activists was the "Pass the Phone" video that called on the Minister of Labour to pass the supply chain legislation bill that we were lobbying for to protect children involved with child labour. This campaign generated lots of engagement and we even received a response from the Minister's team!