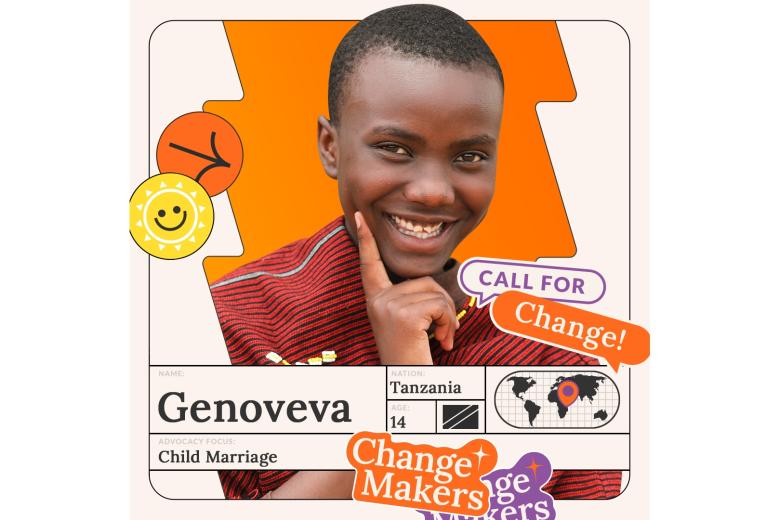 Genoveva
Tuesday, May 9, 2023
As a member of her district Junior Council in Tanzania, 14-year-old Genoveva is a Changemaker at the local and national level. She advocates for children's rights on radio and TV, with a focus on protecting girls from child marriage and teenage pregnancy. Genoveva hopes to build confidence and freedom in girls so they can be aware of their rights and be empowered to fight against any violence.
Q&A with Genoveva
lightly edited and condensed for clarity
What is your favourite food to eat? 
I like eating local foods like maize with beans (locally called "kande") and ugali with tembele vegetable. (Ugali is a type of food made with flour from maize usually eaten with vegetables and or beans. Tembele is sweet potato leaves.)
What is your favourite thing to do for fun?
I like so much - singing songs and watching cartoons.
Who is your favourite actor/singer/dancer/influencer?
My favourite actor is Mkojani (a local comedian and actor), because he makes me laugh through his comedy.
Celine Dion is my favourite singer because of her good and attractive songs with a message to the audience. I also like gospel singer Angel Benard and her encouraging songs.
Influencer- Prime Minister of the United Republic of Tanzania, His Exc. Hon. Kassim Majaliwa, as he always stands up straight for truth and walks through his words, and I see him as a responsible leader.
What is your favourite memory from your childhood? 
I remember that on my 6th birthday celebration my mother cooked for me a favourite food: ugali with tembele vegetable. I enjoyed it with friends very well.
What would you tell a future Changemaker? 
I would like to tell you to be confident and seek to discover or identify more causes  of child abuse cases surrounding our community.
With no fear, they should try as much as possible to create awareness on effects of child violence.
With observed evidence on child violence, they should not hesitate to provide information to the relevant authority for appropriate action to be taken.
What is the issue you advocate on and what made you decide to take on this issue? 
I advocate on child rights, specifically on ending child marriage and child pregnancy. After attending several trainings provided by World Vision and at schools, we were taught the effects on child rights and responsibilities.
I like to see girls be able to reach their dreams and properly accomplish their studies without any trouble towards their life journey. There was observed evidence, from the community where I come from, that some girls had their dreams stolen as some got pregnant and others were married at younger ages.
In my community, one of the young girls who joined form one unfortunately got pregnant, which led her to forced marriage as agreed by their parents. This incidence made me feel bad because I felt like it had happened to me.
Why is ending violence against children and the issue you advocate on so important to you? 
I don't like to see any children suffering from the violation of their rights. Some of those people who abuse children are those close to children. So I say this must stop, ensuring all children reach their life dreams.
I want also to empower families on collective responsibilities of protecting children for the development of the nation at large.
I want to build confidence and freedom to girl children as they will be aware of their rights and ability to fight against any violence.
I want also to raise awareness on reducing sexually transmitted diseases such as gonorrhoea, syphilis and HIV as the result of rape to children and hence death.
What difference would you like leaders to make to create real change on the issue you advocate on? 
I would advise leaders to review laws and policies that will strongly support ending child pregnancy and marriage - e.g. Law of Marriage Act 1971.
Strict law enforcement for all those engaging in child violence.
Organising frequent awareness session in collaboration with partners, such as seminars, conferences and mass community meetings, which will highly increase community awareness on child violence.
What would you say to leaders if you had the chance to talk to them directly? 
I would advise them to properly apply the power and authority they have to ensure laws and policies enacted to protect children are adhered.
What is something you hope to accomplish in 1, 5, 10 years?
In my personal life - I wish to accomplish my dream of being a medical doctor, where I will be in a position to serve people who are suffering.
In my advocacy work - I would like to see a community which is free from child violence. Not only that but also to have a great number of people who are advocating against child violence.
What is the most encouraging thing that has happened during your work with this issue? 
Great support from my friends and teachers concerning the issue of advocating for child protection.
Great encouragement and support from my parents.
World Vision Tanzania organized an essay competition, which I was highly inspired by after receiving gifts and awards from District, Regional and National levels as a best performing child.
Advocacy activities through the essay competition have provided chances and opportunities for me to raise my voice in advocating for child rights, as has been my desire and passion.
What five words would you use to describe why the issue you work on is so important to you? 
CHILDREN CAN REALISE THEIR DREAMS
What challenges have you encountered in your advocacy work?
Low participation of children in junior council meetings. This is the area which I need effort to work on to have more future changemakers like me.
Do you advocate alongside other children and young people, and how do they inspire you? 
Yes, I advocate with my fellow students in schools but also using broadcasting media like TV and newspaper.
How do they inspire - they positively reacted on initiatives made and were eager to cooperate with me in advocating for children's rights. There were also observed behaviour changes for most young children like denying unnecessary offers provided by people with bad intentions.
If you could pick one personal memory or achievement around ending violence against children, what would it be? 
When I presented my essay during National essay writing competition awards before children, parents and higher government leaders, they were all inspired with messages in my essay, which led potential leaders like Dodoma Regional Commissioner who ordered my essay to be spread to all primary schools throughout the region for them to learn and understand how to protect and prevent themselves from child pregnancy and marriage. Therefore, I believe my message will reach a large number of children across Tanzania country and will lead to positive impact on child protection perspective.