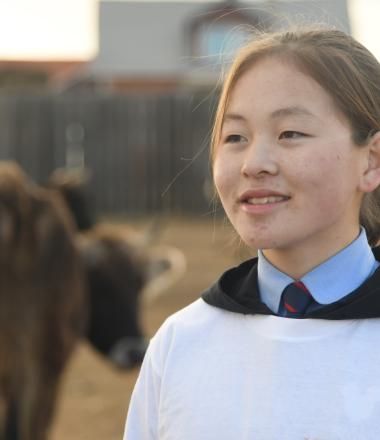 Reason #1241:
So every child can live in a healthy
environment today and in the future.
Sponsor a child today
There have never been more reasons to sponsor a child than right now. 
The climate crisis is affecting everyone, but girls and boys in the most vulnerable communities are bearing the brunt of the impact.
"We are the least responsible for climate change, but we are the most affected by its impacts. This is not fair." Shania, 15, Tanzania
The impacts of climate change are catastrophic – leading to hunger, lack of access to clean water, and loss of livelihoods. 
But you can help tackle the climate crisis. And change the future not just for one child, but for their entire community.
Restoring forests; fighting climate change
When you choose to sponsor a child, you can help them to cope with the impact of climate change and take action to build a better tomorrow.
As a sponsor, you will partner with children and their communities to strengthen their resilience to disasters and other impacts of climate change, lead the change with reforestation and other environmental stewardship programmes, and make their voice heard by decision makers.
Nearly 1 billion children across the globe are now living in countries at extremely high risk of climate change and environmental danger.
But for every child you help, four more children benefit too.
There are so many reasons to sponsor a child. When you choose to sponsor, you can provide lasting change that impacts not just one child, but their entire community.
ONE SPONSOR - ONE CHILD - ONE REASON - AT A TIME