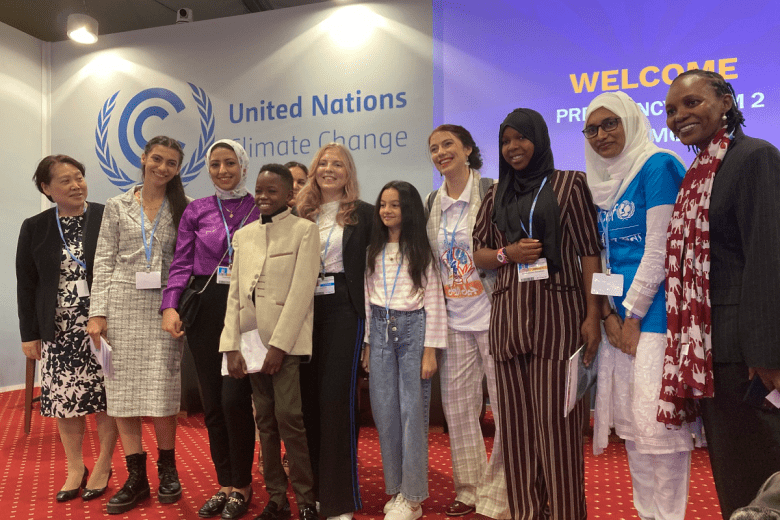 COP27: They heard the voices of children, but were they really listening?
Jason Garrett questions whether, despite the fierce challenges from youth at COP27, decision-makers will do what's necessary to address the climate crisis.
World Vision is a child focused organisation, with the aim of improving child well-being in the communities where we work. As part of that work, as well as addressing issues of health, education, nutrition and child protection, we try to ensure that children have the opportunity to raise their voices and have their say about the issues that affect them.
We support children to raise their voices in their own communities, in their capital cities and at international events, which is why World Vision was at COP27 in Egypt, to support children in speaking to decision makers and world leaders about climate change. This included bringing Shania, a 15-year-old girl from Tanzania, to Egypt to speak at an event organised by the Egyptian COP Presidency.
Shania expressed the frustration of many children around the world at the slow pace of change: "We are the least responsible for climate change, but we are the most affected by its impacts. This is not fair. Governments of all countries need to take bolder decisions and act quickly and decisively, and they need to do it NOW."
World Vision, as part of the Children in a Changing Climate Coalition, also worked together with other child focused organisations, including the Children's Environmental Rights Initiative, Alana, and the Child Rights International Network to provide children with a platform to speak about their concerns and their hopes for the future. Three children, Emmanuel (15) from Norway, Rahmina (16) from Kenya and Nakeeyat (10) from Ghana took part in a dialogue session with adult leaders, including Mary Robinson, the former president of Ireland and Chair of the Elders, along with Danaé Espinoza, Senior advisor to the Mexican delegation and Twaambo Mutinta, Member of the National Assembly of Zambia. The following day saw Nakeeyat placed even more centre stage at COP27 when she spoke to delegates in the negotiation sessions, telling them to 'up their game'.
The children demonstrated an understanding of the issues being discussed and a desire to be more involved and engaged in discussions and decision-making processes in their own countries as well as on the international stage. We are therefore very pleased to see that this engagement of children at COP had a significant influence on the outcomes of the negotiations. The final agreement document from COP27 recognised the role that children and young people had played at COP, and the role they can play as agents of change in addressing climate change. It encourages all countries to include children and youth in their processes for agreeing domestic climate actions and to include children in their delegations at future COPs.
World Vision has been calling for children to be placed at the heart of climate policy processes and to be given opportunities for meaningful engagement, so it is heartening to see children being more involved at COP27 and to see the calls for further engagement of children and young people in the future.
Nakeeyat's speech in Sharm el-Sheikh resulted in a standing ovation from all those in the room. The only question that remains is whether those who heard her were actually listening to her words, and will they take the action that is needed to tackle climate change?
Learn more about World Vision's work to mitigate the impact of climate change here. 
Jason Garrett is World Vision's Resilience Programme Advisor. 
Subscribe to see more content like this