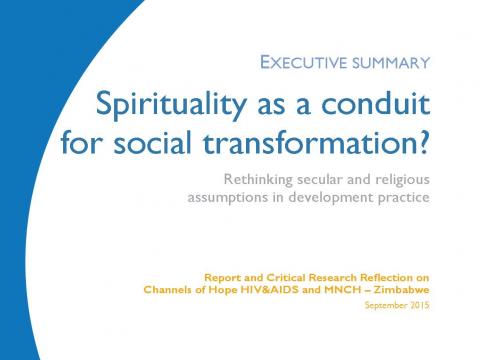 Spirituality as a Conduit for Social Transformation?
Wednesday, October 21, 2015
Channels of Hope provides education and training for faith leaders on issues traditionally associated with stigma and marginalisation in developing contexts. Issues include HIV and AIDS; gender-based violence; maternal, newborn and child health; and child protection. Channels of Hope has seen tremendous success in altering attitudes of local religious leaders and motivating them to change the attitudes in their communities in project areas with varying religious, cultural and socioeconomic demographics. Yet exactly how and why such dramatic shifts in attitudes occur, the effectiveness of engaging explicitly with faith and the extent of Channels of Hope 's success are largely unknown.
This report has been prepared as part of a broader research project funded by the Netherlands Organisation for Health Research and Development. The purpose of the project was to explore these dimensions to contribute to better practice in development as well as broader societal and academic understandings of the place of faith and spirituality in development.