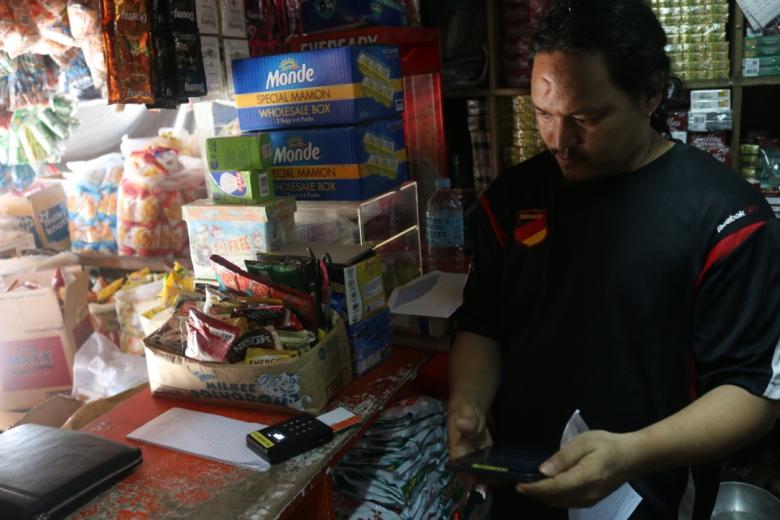 Three Years On From Haiyan, Innovative Cash Aid Has Served Thousands
Thursday, November 3, 2016
"World Vision's livelihood project came at a time when business wasn't doing well," says store owner Alejandro Daisog.
In January 2015, World Vision's typhoon Haiyan response took off with its rehabilitation phase, integrating cash-based programming in the livelihood sector, particularly in skills training and provision of business start-up kits.
"While we had the interest of affected families in mind, we also wanted to support local economy," said Felix Cinco, Cash-based programming Specialist.
Alejandro was one of the store owners selected to provide goods to beneficiaries through his  sari-sari (variety) store in Dulag, Leyte.
Enhancing aid delivery through e-voucher technology
Responding to typhoon Haiyan, aid organizations like World Vision employed cash-based programming to fast track aid delivery in areas where markets are functioning especially during the early recovery to rehabilitation phase. More than 2,000 families were able to benefit through the World Vision's pilot program using MasterCard Aid Solution, an innovation replacing the paper-based voucher.
"Organisationally, this helped World Vision promote transparency, reduce risks to staff and deliver aid faster," explains Cinco. The innovation works even without the aid of telecommunications infrastructure, making it functional even in remote locations.
Beneficiaries were given a card, which connects to World Vision's internal system LMMS, which facilitates beneficiary registration, verification, distribution planning and management, monitoring and reporting. The card combines LMMS and MasterCard functionality.
Vendors like Alejandro, on the other hand, were provided with a terminal. The beneficiary only needs to insert the card in the terminal, choose their grocery items by tapping the photos on the screen and key in their PIN to confirm transactions.
"The terminal was user-friendly, it didn't take us long before we got used to it," shares Alejandro. He adds, "Aside from that, I appreciate how every transaction was digitally captured. We didn't have to process paper vouchers which could have eaten a lot of our time."
Inclusive growth
The e-voucher is not only beneficial for vendors but also for the organisation. World Vision staff can easily look at each transaction, including vendors' reports, which provide insights on how to support beneficiaries' consumer behavior. In terms of security, staff safety is enhanced, as they are not required to carry cash to distribute to the beneficiaries. In terms of other risks, any potential loss or manipulation of paper vouchers was mitigated.
World Vision Haiyan Response Director, Ajab Macapagat, shares, "We have learned a lot of lessons from this emergency response, specifically in being more responsive and relevant to the needs of the communities' most vulnerable through the use of various cash delivery mechanisms. Three years after Haiyan, we are glad to see how people like Fe continue to rebuild their lives."
Alejandro smiles recounting how well his business is doing now – former beneficiaries have become his regular customers.
"I am grateful not just because I also benefitted from your interventions but also because it feels good to see my fellow Leyteños [from the island of Leyte] rise above Haiyan's impact," he said. 
Learn More