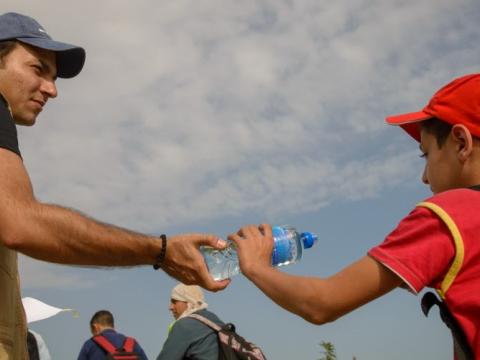 How World Vision works in disasters
Around the world, we work to protect the well-being of children caught up in natural, man-made and complex emergencies.
In 2016 we managed 130 emergency responses across 63 countries, reaching nearly 15.4 million people.
Our holistic child-focused disaster management approach incorporates research, evidence-based programming, advocacy and humanitarian policy supported by field capacity and enabling technologies to ensure the effectiveness of our interventions.
Responding to global trends
In the past decade the acceleration of urbanisation, growth in the number and intensity of civil conflicts and increasing effects of climate change have presented fresh challenges for disaster management. Our shift to a more agile, responsive and integrated model of disaster management ensures we can meet the evolving needs of vulnerable children and their communities.
Urbanisation
According to the United Nations Population Fund, more than 50 per cent of the global population was already urban by 2008, with more than one billion people living in slums. The megatrend of urbanisation will continue, with estimates suggesting that by 2050 more than 67 per cent of the world's population will be city dwellers.
Urban populations, especially children, are particularly vulnerable to risks, with climate change and conflict posing significant threats to the urban poor. Key aspects of social, economic, technological and natural systems function differently in urban areas than in rural or camp settings, where we (and most of the humanitarian community) have developed its response processes, skills and methods.
Due to the density, diversity and dynamism of cities urban systems have specific features. This is evident, for example, in the ways that communities are defined and function, the ways that markets, economic development and employment exist, and the reliance by the private sector and service provision on infrastructure for a range of goods and services.
Working with the centre for expertise in urban programming, we continue to adapt and refine our approaches, programming models, staffing and systems to effectively manage disasters in urban contexts.
Conflict
In FY13, over one billion girls and boys lived in countries affected by conflict. Of those, seven million were refugees and four million were internally displaced, 300 million were under five years of age and 250,000 were child soldiers. (ECHO, Children in Conflict, 2014)
Besides being among the many civilian casualties during an armed conflict, children, especially girls, may be orphaned or separated from their families and become heads of households which makes them vulnerable to forced labour, sexual exploitation or recruitment into armed forces.
Children are often malnourished and at risk of death from preventable or curable diseases in environments where basic services are disrupted and livelihoods destroyed. The hardships of life in armed conflicts often force children to leave school. Many never return, even when conflict ends.
Children who have experienced conflict must find ways to cope with their memories of distressing experiences which may well have long-term repercussions and affect their whole life.
We are working to help children and their communities become more resilient in contexts of conflict through solid early warning systems and conflict mitigation measures such as community-level interfaith work and peacebuilding.
We also continue to prepare and implement humanitarian responses relevant to the needs of these children and their communities, and rehabilitation and post-conflict programmes that are sustainable and built on local capacities.
The evolution of our disaster management approach
Integration with development
The reach of our global development work provides significant opportunities when it comes to disaster management. Recognising the crucial role of community resilience and disaster risk reduction has grown, we've worked to address these areas in our community development models. Programming that explicitly addresses individual and community resilience, early warning, disaster preparedness and mitigation is increasingly part of our work with vulnerable communities.
Cash programming
We use cash transfers in contexts where goods are locally available, markets are functioning and accessible, beneficiaries are supportive and it's safe to deliver cash. In these situations cash transfers have significant benefits over traditional distributions, including:
Flexibility: cash enables beneficiaries to choose a more appropriate set of goods and services that better corresponds to their individual priorities, rather than a 'one size fits all' in-kind assistance package.
Efficiency: delivering cash avoids the large shipping, storage, transport and distribution costs of in-kind assistance. Cash may also mean that beneficiaries will not be forced to sell, at a large discount, the in-kind assistance they receive in order to meet their wider needs.
Economic impact: transfers inject cash into local markets, with multiplier effects that can stimulate the local economy and help it recover.
Dignity and choice: cash can provide assistance to beneficiaries in a manner that enables them to make decisions about their own welfare in ways that in-kind assistance does not.
The right tools, whether they include a notice board used for communication with communities, or a system that facilitates cash transfers to refugees, have always played an important role in the efficiency and effectiveness of humanitarian programming.
As technology has advanced, we have continued to adopt and develop tools that contribute to the efficiency, impact and tracking of our work, as well as the work of the broader humanitarian industry. Technology like our 'Last Mile Mobile Solutions' has now been adopted by peer agencies including Oxfam, Medair, Save the Children, International Committee of the Red Cross, CARE, the Norwegian Refugee Council, Food for the Hungry and Mercy Corps, improving collaboration and coordination between agencies.
While technology and innovation are not synonymous, the right technology can inspire and facilitate new and better ways to achieve our goal to protect children from the impact from disasters. Learn more about the technology that supports our humanitarian work.
Information management
Coordination and inter-agency collaboration is an essential part of our Disaster Management work. We are continually adopting new technologies and developing improved information processes to ensure vital operational information is collected and shared with our partners. 
Continuous improvement
Evaluation, learning and innovation drive ongoing improvement in all our sectors of work, including water, sanitation and hygiene (WASH), children in emergencies (CIE), health and nutrition, food assistance, shelter, humanitarian advocacy and humanitarian protection.
Standards, coordination and accountability
We are a signatory to the Red Cross Code of Conduct and we are committed to implementing emergency programs in line with the Sphere Project's Humanitarian Charter and Minimum Standards in Humanitarian Response.
 We are a member of the Humanitarian Accountability Partnership (HAP) and, keeping in line with the HAP principles, we are working to be more accountable to communities in our emergency responses.
LEARN MORE