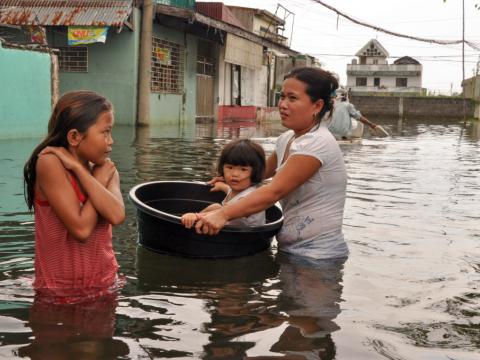 Urban disaster management
The urbanisation of the world's population is accelerating. By 2008, more than 50 per cent of the global population was already urban with more than one billion people living in slums (UNFPA, 2014). The megatrend of urbanisation will continue with estimates suggesting that by 2050 more than 67 per cent of the world's population will be city dwellers (ECOSOC, 2011).
With climate change and conflict posing significant threats to the urban poor, urban populations are particularly vulnerable to risks, especially children.
Key aspects of social, economic, technological and natural systems function differently in urban areas than in rural or camp settings. Urban systems have specific features due to the density, diversity and dynamism of cities. This is evident, for example, in the ways that communities are defined and function; the ways that markets, economic development and employment exist; and the reliance on infrastructure, the private sector and service provision for a range of goods and services.
We must develop the competencies necessary to respond to the rising urbanisation trend to meet the needs of the world's most vulnerable children in urban contexts.
To achieve this, we are adapting our approaches, programming models, staffing and systems to deal with urban contexts. A variety of new competencies are being developed to ensure we are able to properly manage urban disasters.
Responding in an urban context
How will we respond to this radically changing context when most of our experience is in rural settings?
The adaptation and development starts with a vision of the organisation's desired future, that is, we are properly equipped to respond to the challenges of the new urban century – including disaster management.
In achieving this we aim to become:
A leading humanitarian agency in urban contexts.
Able to develop and implement effective responses with strong urban competencies.
Urban-ready, with a business model in place to be a partner of choice in selected urban settings.
Evidence-based, bringing evidence to bear on both advocacy and operations.
This vision will be developed through four key areas to guide the DM2020 strategy for urban disaster management:
System adaptation
The need for speed, partnerships and good context analysis. Working closely with the Urban Centre of Expertise and changing approaches to our child sponsorship and development activities, we will develop new skills and capacities, tools and approaches. This includes leadership, analysis and technical skills and a better understanding of vulnerability in urban environments.
Sector focus and integration
Cash and market based programming, shelter and infrastructure, health, WASH and child protection are key needs in urban responses.
Advocacy and influencing
Partnerships with private sector actors, local and municipal governments and other service providers will help ensure relevance to urban systems, moving away from a direct service provision approach.
A new fundraising model for urban disaster response
New donor focus and targeting, linking more closely to academia and private sector donors.
LEARN MORE