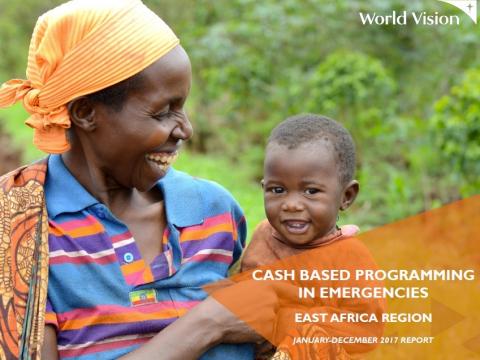 Cash based programming in emergencies - East Africa region - 2017 report
Tuesday, April 3, 2018
In 2017, cash based programming became a integral response approach to meet the shifting needs of the millions of people facing conflict, drought and displacement in East Africa.
More than US $30 million in cash and vouchers was distributed to more than 735,000 vulnerable people through cash based programming as World Vision responded to:
Drought and conflict in South Sudan
Drought in Somalia
Drought in Kenya
A refugee crisis in Uganda
Multiple needs in Burundi 
World Vision's cash based programming approach was endorsed with the support of grants from international humanitarian actors and government agencies in high income countries, along with private donations facilitated through World Vision's fundraising offices.
This report highlights: 
Why World Vision is expanding its cash based programming approach in emergency responses in East Africa
How the money is spent by beneficiaries
How innovation is used in cash based programming in emergencies in East Africa
How each of the countries that implemented cash based programming in emergencies in East Africa performed
For more information, please download the report.