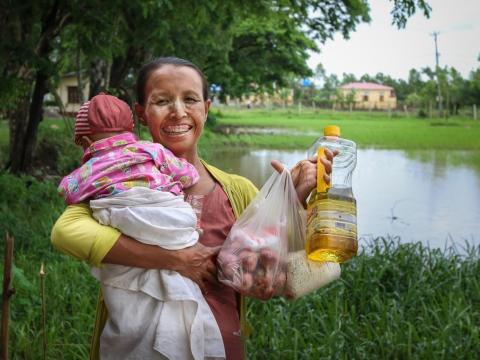 Asia Pacific Cash Learning Lab Report
Monday, November 4, 2019
The Asia-Pacific region continues to be the world's most disaster-prone region and is the most affected by natural disasters. The poorest countries and communities within the region are highly susceptible to the damages caused by these disasters. In 2018 alone, 25 million people were affected by natural disasters in the Asia-Pacific region, costing USD 15 billion in total damages.
As trends indicate that more frequent global natural disasters will continue, child-focused organisations like World Vision need to be equipped to provide humanitarian assistance quickly and more efficiently, improving the lives of children and their families and building their resilience to cope with natural or manmade disasters. Keeping pace with the fast-changing nature of humanitarian assistance, World Vision is working on expanding its Cash and Voucher Programming (CVP) approach in context-appropriate environments. For CVP to become a pivotal response approach to meet the shifting needs of millions facing conflicts, disasters and displacement, World Vision has invested in the Asia Cash Preparedness Learning Lab (ACPLL) initiative.
In Asia Pacific, we are strongly committed to ensuring that all our future humanitarian responses are 'cash-first' and CVP becomes the routine, when appropriate. It is essential to build on national and regional CVP mechanisms and systems. By scaling up our CVP initiatives, we aim to reach more vulnerable families and communities across Asia Pacific. When empowered with cash assistance, a family plays a lead role in their own recovery and is in a position to choose which needs they would like to prioritise, restoring their dignity.