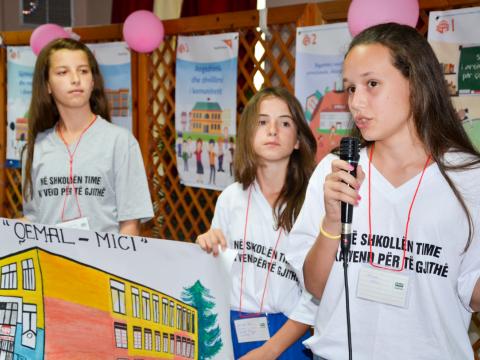 Children with disabilities must benefit from quality education
Wednesday, August 10, 2016
As I sat in a workshop on disabilities recently, I thought a lot about a close family member who struggles with a chronic illness. It makes it difficult for him to participate in daily life and work. His condition and its effects are, in many ways, invisible, but they are indeed a disability.
Disability is defined as a physical or mental condition that damages or limits a person's physical or mental abilities[1]. I can't imagine what life would have been like for him if he had this condition when he was in elementary school. Would it have caused him to miss school days? Would he have had more trouble learning to read? Would he have felt isolated from his schoolmates? I don't know the answers to these questions, but I know that children with disabilities are extremely vulnerable to being excluded from educational opportunities.  
In some countries, having a disability more than doubles the chance that a child will never attend school.[2] In some places, school administrators refuse to enroll students with disabilities. Even after overcoming the barriers to enrollment, these students may find schools are inaccessible or lacking equipment and services that they need such as wheelchairs, ramps or health services.[3]    
Children attend a kindergarten programme in Georgia that has become more inclusive to children with disabilities because of its efforts to train teachers to support their needs. (Photo credit: James Addis / World Vision)
Teaching children with different abilities in an inclusive way is also challenging. The curriculum and materials are not always adaptable, and books are not in braille. Teachers may not know sign language and may not know how to accommodate the needs of children with dyslexia or other learning disabilities. Furthermore, children with disabilities often face bullying by their peers.  
The challenges are big, but there are also great opportunities. One example of a project which has been addressing children with disabilities in school is World Vision Albania's Education Kickstart programme, entitled "School as a Community Centre". World Vision trained teachers on inclusive education strategies to support children with disabilities in their classrooms. Workshops on inclusive education and how to create a "child friendly" school provided an opportunity for communities to identify the needs of children with disabilities. One school identified an immediate need for a wheelchair ramp, and the parents of the school volunteered to build one. At another school, students organised a week of awareness activities where they expressed forms of disability through paintings aimed at creating an inclusive culture in their school.
Children express forms of disability through paintings aimed at creating an inclusive culture in their school. (Photo credit: World Vision) 
The project also worked with one community to conduct a two week summer camp for 18 children with disabilities and their parents. This was the first of its kind with speech therapy, physiotherapy and learning through activities and interaction with their parents. Working with parents who fear the stigma that exists around their differently abled children is another path which was explored in this project. Understanding the potential that their children have versus the barriers which exist in school and their community was incredibly powerful for these parents. Parents also learned about the rights that their children have. Parental engagement is critical component of inclusive education programmes.
In partnership with the Ministry of Education and Sports, World Vision published and circulated a manual on inclusive education which targeted teachers and education specialists. The project trained 234 teachers and school staff on increasing capacity for inclusive education and developing Individual Development Plans for students with disabilities.
Learn more about World Vision's work in disability inclusion.
Around the world, students with disabilities often miss out on quality education and the joy of attending school with their friends. It's encouraging for me to see World Vision's work towards making education accessible to children in Albania and in other countries around the world. It's also personal. I'm grateful for all the people in my family and community that support this person in my life, making sure he obtains the health care he needs so he can work and participate in everyday life. And I'm grateful for communities and families in Albania doing the same for their children and schools.
Related links:
Lisa Easterbrooks is the Basic Education Specialist in the Education and Life Skills group at World Vision International. She has over 12 years of experience in international development with a focus on literacy, basic education and life skills programming. Lisa has been the Programme Manager for the Education Kickstart for the last two years. Lisa has a Master's in Education from Boston University.
Follow Lisa on Twitter at @lmeasterbrooks.
[1] http://www.merriam-webster.com/dictionary/disability
[2] International Disability and Development Consortium (2012) Teachers for All: Inclusive Education for Children with Disabilities (2012, Retrieved from the UNICEF website at http://www.unicef.org/disabilities/files/IDDC Paper-Teachers for All.pdf
[3] ibid.