END child marriage
"We believe that child marriage is an extreme violation of children's rights - it brings down the darkness in the life of a girl and destroys childhoods." - Young Leaders' Open Letter to Decision Makers
Sign your commitment to End Child Marriage
Children and young people have issued a powerful open letter to decision-makers calling for a ban on child marriage.
They are speaking truth, holding leaders to account and demanding change.
Excerpts from the Open Letter on Child Marriage:
"Every child in the community needs to know their rights in relation to child marriage laws and policies. Governments should make people in school and college aware of the bad effects of child marriage and popularize the national helpline number so people can report cases of child marriage. The government should also ensure people who are involved with child marriage face strict punishment and let people know about the punishment."
"And we want our governments to monitor and enforce laws which protect children's rights. We need a social movement against child marriage with community, government and NGOs working together to make society violence free for every girl."
"Please join with us in this goal and sign a commitment to end child marriage. Don't wait another day to take action with us."
Together to END child marriage
Children have a right to be heard and a right to thrive.
Amplify their voices. Help make this moment count.
OPEN LETTER ON CHILD MARRIAGE
Sign your commitment to end child marriage
Join young leaders in their call for change
From the Open Letter on Child Marriage:
In order to protect our childhood, we should end child marriage. Because no one has the right to ruin our childhood. Since children are the present and future of the nation, how can you ensure the future in the middle of the four walls when a child gets married? We must fight to save children's future, not for the girls only, but for the country and the world.
So, we ask:
1. Ban any child marriage under the age of 18 in all the countries of the world.
2. Prohibit the option of girls being married off with parental consent. This puts children at high risk as in many rural communities, people respect customary leadership more than national law, and continue to marry off their children.
3. Empower girls and boys to be bold and courageous to report child marriages to the local authority. This will help so much because the children themselves are against this practice.
4. Stop the view of girls as a burden and child marriage as a solution to end poverty. Both are not true.
5. Provide more and better education for girls and keep everyone at school.
Sign your commitment to end child marriage
100%
49503 actions taken so far
Mailchimp Subscription Form: End Child Marriage
Privacy Statement
World Vision International ("WVI", 800 W Chestnut Ave, Monrovia, CA 91016, U.S.A.) handles your contact details in accordance with its Privacy Policy, which can be found here, as well as applicable privacy and data protection laws in the U.S.A., where the level of data protection may be different from that in your country.
The personal data you provide, such as your contact information (e.g., first and last name, country of residence, and e-mail address), will be consolidated and stored by WVI using a third party online platform MailChimp, whose official name is The Rocket Science Group, LLC in accordance with its Terms of Service. Please consult the website of MailChimp directly to learn more about its privacy and data protection practices.
If you have requested to receive more information about the petition, we will share your contact details with a World Vision office in your country of residence so that they can follow up with you directly. That office will be solely responsible for any further processing of your information, in accordance with the privacy and data protection laws in your country. If you would like to learn more about how the local World Vision office protects your information, or how to exercise any data protection rights against the office, please review the office's online privacy policy.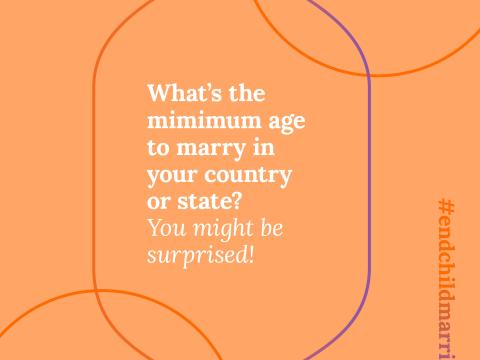 #endchildmarriage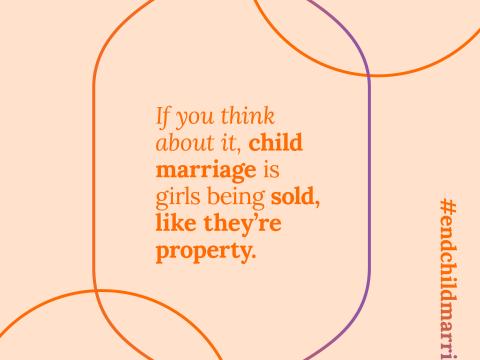 #ittakesaworld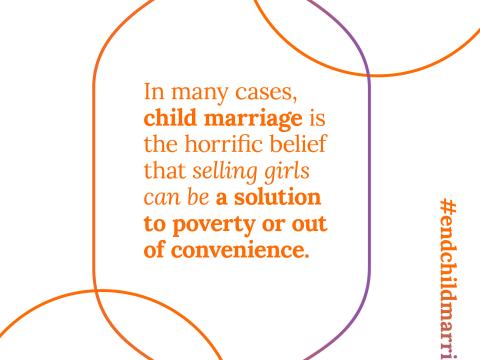 #endchildmarriage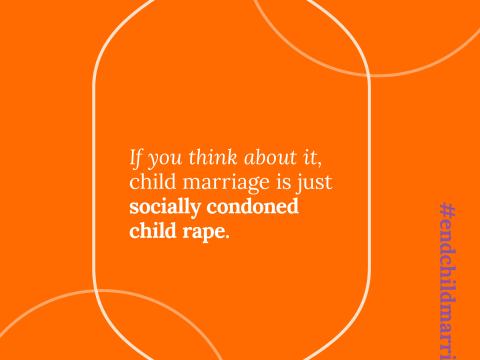 #ittakesaworld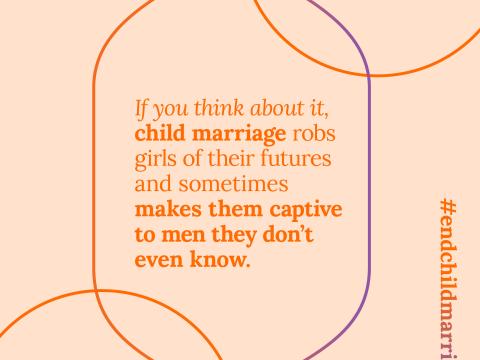 #endchildmarriage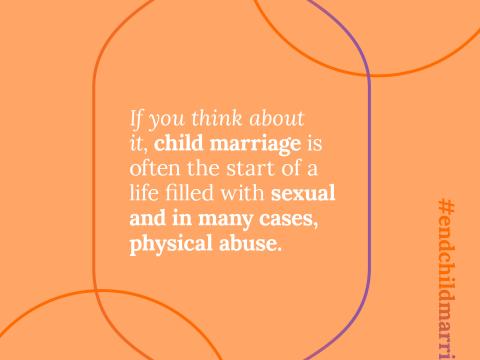 #ittakesaworld
It's time to END child marriage
Child marriage is a devastating form of child abuse and violence against children, and it's rising. 2020 saw the greatest surge in child marriage rates in 25 years.
110 million more girls are predicted to be child brides by 2030, That's millions of young girls who are trapped and facing a bleak future of recurrent rape, abuse, and domestic violence. We cannot wait to act.
Young people are standing up and speaking out to end child marriage, and they're having an impact. Governments and donors must also step up. We're calling for strong and enforceable laws to ban child marriage, and for governments to invest in more support for services to prevent and respond to child marriage.
Meet champions fighting child marriage around the world
Frequently Asked Questions
What is child marriage?
Child marriage is a legal marriage or informal union where one or both parties are children under the age of 18. While child marriage is far more likely to happen to girls, in some countries, it's not uncommon for boys to also marry before the age of 18. Often, a younger girl is married to an older man. It impacts girls across countries, cultures, and religions.
The reasons that child marriages occur are varied. Poverty, inadequate enforcement of laws, and harmful social norms and practices all play a role, but gender inequality is at their root.
Child marriage is a worldwide problem, particularly in developing nations. It cuts across ethnic, cultural, and religious lines and can be found from Africa to the Middle East, Asia to Europe, and the Americas.
Girls who marry as children are less likely to reach their full potential. They face separation from family and friends during a critical stage of their lives. They're expected to take on the role of a grown woman — keeping house and raising a family — rather than going to school and playing. A child bride's future is often not of her own choosing.
How many children are affected by child marriage?
Each year, 12 million girls are married before the age of 18. That's 23 girls a minute that are married before age 18.
There are currently 650 MILLION CHILD BRIDES, girls and women alive today who were married as children. They live in every region of the world.
Globally, 21 percent of young women (ages 20-24) were married as children. That means that worldwide, one in five women aged 20 to 24 were married as children.
UNICEF projects that up to 10 million more girls will be at risk of becoming child brides as a result of the COVID-19 pandemic.
Unless we accelerate our efforts to end child marriage globally, 110 million more girls under age 18 will be married by 2030.
What is World Vision doing to stop child marriage?
Empowering women as agents of change and experts on their own lives is crucial to ending child marriage. The key to change isn't by finding someone to blame — it's working with communities where the practice is common and walking alongside girls and women, listening to their voices and championing their cause to those in power.
We're partnering with faith leaders, children and local authorities in over 70 countries around the world to enact laws, change social norms and make sure existing laws are implemented. We're also empowering girls and boys to report cases and take action to prevent forced marriages of their peers. Through our child sponsorship programmes, we help address some of the underlying causes of child marriage by making sure children are able to go to school and parents have enough resources to care for their children.
Our global campaign, "It Takes a World to End Violence Against Children," has been implemented in 65 countries, with national campaigns focused on ending child marriage in 21 of those countries. The countries prioritising child marriage include Afghanistan, Chad, Ethiopia, Ghana, Iraq, Kenya, Jordan Lesotho, Malawi, Mali, Mauritania, Mozambique, Nepal, Niger, Senegal, Somalia, Syria, Tanzania, Turkey, Uganda, and Zambia.
Isn't child marriage illegal?
World Vision reviewed 20 countries where child marriage is prevalent. In only two of those – the Democratic Republic of the Congo and Guatemala – was child marriage fully outlawed for boys and girls under the age of 18, without exception. Every other country reviewed (Angola, Armenia, Bangladesh, Bosnia and Herzegovina, Cambodia, El Salvador, Eswatini, Ethiopia, Indonesia, Mexico, Mozambique, Peru, the Philippines, Romania, Sierra Leone, South Africa, Sri Lanka, and Zambia) continues to allow marriage under the age of 18 under specific circumstances. Eleven countries permit children to marry with consent or permission of parents and/or local authorities; at least six countries have specific mention of religious or cultural exceptions (such as the customary Marriage Act in Sierra Leone and South Africa, and religious law in the Philippines). Where these exceptions are allowed, there is often gender discrimination against girls, whose age for legal marriage is lower than boys. At least five countries maintain a lower age of marriage for girls, and at least four countries made exceptions for "special circumstances", usually interpreted as teenage pregnancy, although age of the male is not referenced. For more information check:  Small Cracks, Big Gaps Report.
Countries like Bangladesh, CAR, Indonesia, Niger, Senegal, Sierra Leone, Somalia, South Africa, and Thailand have no minimum age of marriage. Not surprisingly, these countries are among those with the highest prevalence rates of child marriage or among those with the highest number of women 20-24 years old who were first married or in union before they were 18 years. For more information check: Girls Not Brides Atlas.
What is World Vision asking for?
We believe the legal age of marriage for girls and boys should be 18 or above. At World Vision, we believe that every child deserves the chance to experience life in all its fullness, to dream big dreams, and to realise their God-given potential. Child marriage is a serious violation of a girls' rights and deserves a robust global response. As such, we are asking for national governments, donors, and our partners to work together to ensure:
No girl is married under 18 – total ban
Ensure access and remove barriers to quality, safe, child-friendly education for girls, especially in fragile and conflicts situations
All girls need to be empowered through knowledge and access to sexual and reproductive health services, so they can make informed choices
Partner with faith leaders and community leaders, who can take charge in driving attitude changes and ending harmful practices.
Increase investments in helplines and other services preventing and responding to child marriage throughout the COVID 19 pandemic and beyond.
What can I do to help?
Join us in advocating for greater protections against child marriage and other forms of gender-based violence, as well as equal access to quality education.
God calls us to loose the chains of injustice (see Isaiah 58:6) — let's do so by speaking out against child marriage. Pray with us for those affected. Stand with us in support of policies and laws that give children the power to determine the outcomes of their own lives. It's time for justice. It's time to end child marriage now.
Call on governments to ban child marriage, implement existing laws, and fund services to prevent and respond to child marriage. Take action now and sign the open letter today.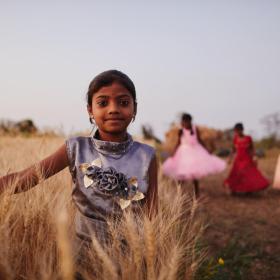 END child marriage
Join with us to call on governments to ban child marriage, implement existing laws, and fund services to prevent and respond to child marriage.