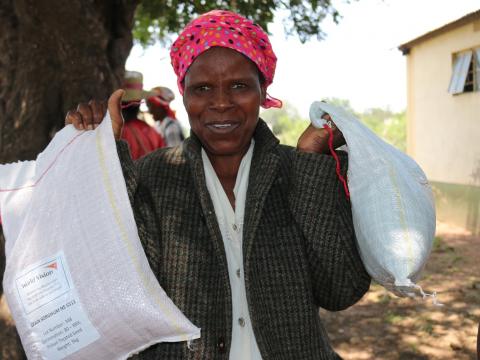 World Vision distributed sorghum and cowpeas to vulnerable farmers
Monday, January 7, 2019
World Vision in Eswatini has distributed sorghum and cowpeas seeds to 2010 vulnerable farmers at Mpolonjeni and Sithobela constituencies.
This Food Security Project is funded by World Vision United States of America. Both Mpolonjeni and Sithobela are some of the constituencies that are prone to drought such that maize crop is not surviving well. In an interview with few farmers from Sithobela, most of them were able to get a bumper harvest on sorghum last year. However, the maize crops was destroyed by fall army worm and the heatwave.
Christina Dlamini (58) is one of the beneficiaries of the seeds from World Vision. She is from Lavundlamanti community under Sithobela. She was so excited about her seeds and related that her family was able to survive with sorghum after receiving 150kg and cowpeas for seven months.
"This sorghum is very good for people with diabetes. I have maintained my health status because of the sorghum. We cook three dishes using sorghum at home. In the morning I cook thin porridge for the whole family. This has enabled by grandchildren to have something to eat before going school. Any leftover I prepare sour porridge. I then cook thin porridge, which is very good and nutritious," Christina Dlamini said. Her family consist of six members including her husband.
She extended her gratitude to the organization for remembering them and making sure that they are food secured. Dlamini further appreciated that World Vision is giving red sorghum, which is hardly eaten by birds unlike the white ones.
"I have already prepared my field for planting making sure that no livestock will be able to come and destroy my crop," she added.
Christinah Thatha Mamba (65) a mother of 12 children, whom all were born at home was overly excited after receiving her share of seeds (sorghum and cowpeas). She is staying with some of her children, who are unemployed and grandchildren after some of her children passed on.
"We cook our meals using a size six legged pot and since April this year we have been enjoying our sorghum meals. With the cowpeas my yield was affected because of a pesticide that affected them and compromised the productivity," she related.
This family has been enjoying their sorghum until October this year. According to Mamba sorghum is not affected by the fall army worm that destroyed maize crop in the community.
"Please tell the donors that I will forever be grateful for removing shame in my family. Now when we have visitors we offer them something to eat. Previously we didn't have enough to share with anyone," she said with so much pride.