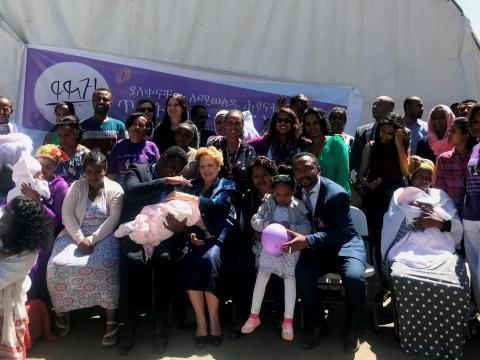 Born on Time (BoT) program participated and commemorated World Prematurity Day
Monday, November 26, 2018
WV Ethiopia Born on Time (BoT) program participated and commemorated World Prematurity Day at the event organized by Federal Ministry of Health (FMoH) with other partner at Ghandi hospital on 23 November 2018. The event was organized to commemorate World Prematurity Day and launch expansion of level III Neonatal Intensive Care Unit service nationally.
Every year, 15 million babies are born prematurely – more than one in ten of all babies around the world.  A complication from preterm birth is the leading cause of death in under age 5   which account for nearly 1 million deaths each year. In Ethiopia, 320,000 babies are born too soon each year and 23,100 children under five die due to direct preterm complications.
WV Ethiopia born on time program (funded by Global affairs Canada and Johnson and Johnson) is working with FMOH, Amhara regional health bureau and other partners in three zones and 15 districts of Amhara Region to contribute to reduction of neonatal mortality by preventing preterm birth. Interventions include capacity building to improve availability of quality gender responsive and adolescent friendly maternal and newborn reproductive health services.  
As part of the capacity building effort, a number of skill based health training including basic emergency and obstetric care, essential newborn care, neonatal intensive care unit, family planning, clinical mentoring is given to health professionals per the standard training guideline of the FMOH for health professionals from the 138 target health centers and 9 primary hospitals in the target areas.
The program also supports facilities with Ante Natal Care, Post Natal Care and Essential Newborn Care equipment and supplies (including NICU equipment in selected 4 primary hospitals). The second pillar of the program focuses on social behavior change activities with women group, men group, in and out of school adolescents and religious groups to improve utilization of quality health services and address the discriminatory socio-cultural norms and gender barriers that lead to poor newborn and maternal health outcomes. The last pillar of the program is improving availability of quality data on preterm birth and related issues to inform programing and decision making. To this end the program collaborates with Gondar University to contribute to the body of knowledge on preterm birth and related issues.
Dr Amir Aman, Minister at Federal Ministry of Health with a child  (Mihret) who was born preterm (who got care @ Gandhi hospital) and is attending school, her mom, UNICEF and Ganadhi hospital staff at the World Prematurity Day expressing commitment to work together - prevent preterm birth and care for preterm babies.
The WPD and Neonatal Intensive Care Unit (NICU) launch was attended by FMOH minister Dr Aman Amir, UNICEF Head and other partners including USAID, Clinton Health Access Initiative (CHAI), Ethiopian Pediatric Society (EPS), PATH and TRANSFORM Developing Regional State (DRS), and others.
WV Ethiopia BoT program participated and supported in the preparation of the event.  
Invest in preterm birth prevention and care to end preventable newborn deaths by 2030. #worldprematurityday