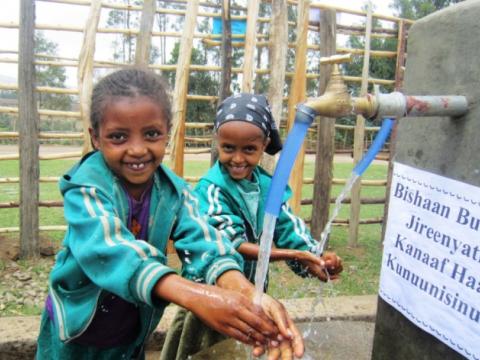 Serving Woldotelfam community with clean water
Constructed by World Vision Ethiopia in collaboration with the Government and the Community, the 9 million birr Woldotelfam Motorized Gravity Water Supply Project in Wonchi Woreda Oromia Region, 120 km west of Addis Ababa inaugurated on 15th May 2015. Funded by the Smiths Family & Friends, from USA, the Water Supply Project serves 7,795 people (4,677 children) with safe drinking water.
The 128 meters deep borehole has the capacity of yielding 7 liters per second. The scheme has 18 water points out of which 2 are constructed in schools. The project inaugurated in the presence of various government officials from the Federal, Oromia Region, Wonchi Woreda, the community, and World Vision Ethiopia.
On his opening speech, the Woldotelfam Kebele Chair Person, Hailu Ibsa, congratulated the community. He said, "Thanks to World Vision and the government, our women will relieve of fetching water from long distances and our children will have clean water at their schools."   Woreda Water, Mine, and Energy Office Head Ashenafi Teressa, on his part said, "Water is life and that was what the Woldotelafam community had been lacking for a very long time. Today, World Vision has helped alleviate this problem and our children are drinking clean water in their schools."
One of the community members, Shifera Dessie expressed his happiness by saying, "Many of this community people have been languished of water borne diseases, but this clean water will take away all the misery.  May God bless the Smith Family with long life."
Concluding the ceremony, Zelalem Wegari, WVE WASH Regional Manager congratulated the community on behalf of World Vision Ethiopia and said, "Providing for the most vulnerable and every child with clean water is World Vision's mission. Thus, seeing you happy today makes us happy too. This project is yours, so as it was said before it is up to each one of you to take care of the water schemes."
Across the country, WVE is running a $33.5 million program over 5 years that aims to reach 875,000 beneficiaries with a holistic suite of WASH interventions at all its Area Program's (AP) by 2016.