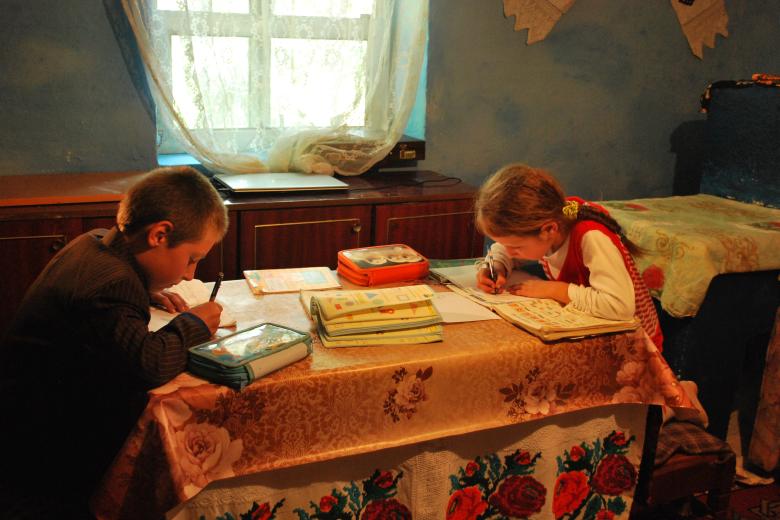 Fortified by faith to be examples of education
Tuesday, November 19, 2013
It was Sunday morning when I came in Conacu village with a national television crew that was going to make a feature report about the Rusu family. The feature report's theme was about families living in poverty with dignity who, despite their financial situations, encourage and help their children to continue their education. World Vision selected the Rusu family to be promoters of education in rural areas, and encouraging other parents, like themselves, who struggle with poverty not to give up on their children's future.  Conacu is a very small village without jobs or any opportunities, where people survive only from farming.
The deep silence that surrounded the house when we arrived made us question for a moment whether or not we had found the right location. Soon, however, a torrent of voices burst out into a religious song, confirming that there were people inside. We walked silently into what we believed was a simple home. But, where we were was not a house, but a Baptist church filled with villagers and a minister, preaching from the pulpit. Maria Rusu, the mother of seven and our host, welcomed us with a large and warm smile and asked us to please wait until the meeting had finished.
Ten minutes later, 20 people and 10 kids filed outside and said good-bye one another. Maria, 41, and Neculae, 56, invited us into their house, which shares a common wall with the church. Elena, a playful 7-year-old blond, with long knit tights and eyes like the sea, blocked the entrance to the home and let us come inside only after we took some pictures with her. She is a first grade pupil, but is already promising to become a fashion model.
Maria is 5. She is always smiling. She is a vibrant and spontaneous child always ready for action. She attends village kindergarten. Her brother, Matei, is 3-years-old. He is a gorgeous boy with hazel eyes and brown hair and is Maria's friend at kindergarten. Valentina, the smallest one, is only 2-years-old but is intensely preparing every morning for the time when she will go to kindergarten. She practices getting ready, by putting on her older brother's backpack before she walks as far as she is allowed, to the gate. She is eager to go at school as her siblings do. It is absolutely unbearable for her to see all the siblings leave in the morning while she has to remain home.
Ioana is the biggest sister and the firstborn baby of Maria. She is 17-years-old now and an 11th grade student Cobadin High School.  She is kind and understanding and her mother's assistant, when it comes to the other children.
Nicusor, 15, is almost too responsible for his age.  The family's necessary water is extracted with a hydrophone, from a neighbour's well, because their well collapsed. Nicusor is responsible for this task. He makes several trips to the well at least two times a week, bringing enough water for multiple days and storing it in their 200 tank. Petru, 9, is the student in the family.  Although he is only in third grade, he is very good at math, is reading book after book and is very scrupulous with his homework. 
When all nine family members gather inside the main room of the house (the parent's bedroom), it is extremely difficult to breath.  Not only is this room used for sleeping, it is also where the children do their homework, in shifts, of course.
"The children do their homework, in a predetermined order, on the table in this room," Maria explains.
"The children do their homework, in a predetermined order, on the table in this room," Maria explains. "They come inside two-by-two because it will be chaos, if everyone came at the same time. The first ones to enter Petru and Elena and I lock the door so nobody might disturb them.  After them, come Ioana and Neculae," Maria continues.
She always helps them with their English lessons and checks to make sure they finished all their homework.  Four hours every day are dedicated to helping her children with homework, one hour for every child, because after God's commandments, education is the most important thing in this family.
 "The Children have a natural intelligence and they are learning very well," affirms Pacuraru Eliza, a teacher from Comacu school.  "Their homework is done and their parents came to school to find about children's progress, problems, and results. They are an example for the entire community."
God's words are alive in this family. You can feel the harmony, the peace and the order here. The children and their parents awake in the morning and after they are dressed and had a bite to eat, they gather to pray together, asking for God's blessing for that and for His help to surpass the daily obstacles, like exams, school, health, etc… When they are leaving the house, Maria tells them all: "Go with Jesus". 
Maria gives partial credit to her parenting methods to World Vision, explaining how she learned a great deal in a recent parenting course and detailing how she always tries to put this time of information into practice.
Nothing is taken for granted in this family. For breakfast the children devoured their simple breakfast of fresh bread and milk. No one complained about quantity or variety. Instead, they gave thanks, to their mother and God.
Not only do the children take turns using the table to do their homework, they also share their clothes, many of which were donated by World Vision. These clothes get passed from child to child in the Rusu family. And, if they are still in good shape, they are passed along to another family.
"We received many clothes and this was a huge help for us, because we didn't have money to buy such quality things," says Maria. 
"We received many clothes and this was a huge help for us, because we didn't have money to buy such quality things," says Maria. "I have a pair of baby boots which are "VIP" for our family. I was pregnant with Petru, who is 9-years-old now, when World Vision gave them to me. They have been used by five kids, but are still very good condition. When our family is finished with them, we will give them to another child. I am really curious how many generations will use these baby boots before they are broken," she continues, noting that clothes were not the only thing they have received from World Vision. "The toys we received were an extraordinary gift from World Vision. We can't afford to buy toys, so my children adored them as well as the books, which were especially appreciated by Petru, who is 'eating them like bread," she says, with a laugh. 
Maria is a very special mother, a mother who does not see her work with her seven children as a sacrifice, but instead as a privilege. She was born in Maramures, a county located in the opposite direction of Constanta. She finished 10 grades at the High school. But, because of the lack of money Maria dropped out of school in order to allow her brother to finish.
"I dreamed of becoming a Romanian literature teacher or a lawyer," remembers Maria. 
"I dreamed of becoming a Romanian literature teacher or a lawyer," she remembers. "But, life brought me to the Dobrogea region and here I met my husband. We married and we came in Conacu village. Life is hard, but I will never renounce to read or to fight for my children's education. And, I am very happy that Petru inherited my love for books," Maria shares.