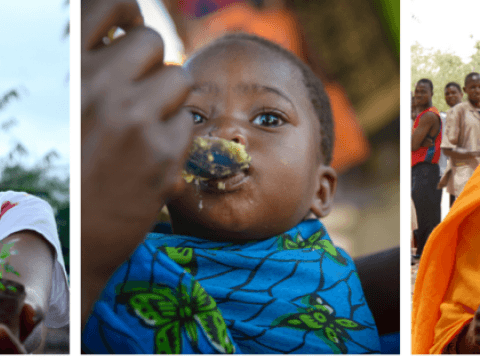 Our Approaches
How does World Vision work for a hunger-free world?
World Vision works to end hunger in the short term and build livelihoods and resilience in the long term. Distributing food, vouchers and cash today allows children to go to school, families to farm and communities to build sustainable markets for tomorrow. Learn more about our specific approaches below:
General Food Distribution
World Vision responds to emergencies and acute hunger with free distribution of food, saving lives. General Food Distribution helps to meet immediate food needs and protect or facilitate recovery of livelihoods for disaster affected populations as a whole. It is also the most common type of food assistance, through which 56 per cent of World Vision's beneficiaries recieved food in 2015.
To learn more about World Vision's work in Disaster Responses, visit HERE.
Vulnerable Group Feeding
World Vision prioritises the most vulnerable and those in need of special attention and support on nutrition. The targeted groups include children under 5 years of age, at risk of or suffering from acute malnutrition, pregnant/lactating mothers, people living with HIV and AIDS, the elderly, orphans and people living with disability.
To learn more about World Vision's work in Food Assistance and Nutrition, visit HERE.
Food for Work | Assets
World Vision works with the communities to identify assets and work projects that will help them graduate from food assistance, and provide food and technical support to the community to succesfuly complete the work.
To learn more about Food for Work/Assets programmes read case studies from 7 countries, including: 
Telling Our Stories: Leveraging Food Assistance for a Hunger-free World 
To learn more about World Vision's work in Resilience & Livelihoods, visit HERE.
Cash Based Programming
World Vision is the leading NGO in Cash Based Programming (CBP). World Vision implements CBP in Central African Republic, Burundi, Chad, Democratic Republic of Congo, Haiti, Iraq, Kenya, Lebanon, Lesotho, Malawi, Mali, Rwanda, North and South Sudan.
CBP adopts cash, vouchers, mobile payments and/or e-payments to meet the food needs of the beneficiaries in circumstancces where food is locally available for purchase. When used appropriately, CBP helps the highly vulnerable food-insecure people access food quickly, reduces transportation and costs, gives the beneficiaries the choice of food and contributes to the local economy.
See Cash Atlas for a global map of where CBP is implemented.

To learn more about CBP, please contact Belete Temesgen.
SCHOOL FEEDING | FOOD FOR EDUCATION
World Vision provides nutritious meals and take-home rations to school children so they can attend the school and learn better. It also supports schools and child care centers become a platform for learning and engagements for the community. 
To learn more about World Vision's work on Education, visit HERE.