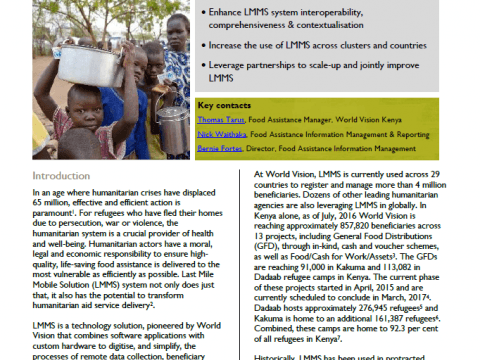 Leveraging Last Mile Mobile Solutions for efficient food assistance programming in Kenyan refugee camps
Wednesday, February 8, 2017
In an age where humanitarian crises have displaced 65 million people, effective and efficient action is paramount. The Last Mile Mobile Solutions (LMMS) system—custom hardware to digitise and simplify remote data collection, beneficiary management, commodity distribution and reporting—does just that.  
Historically, there has been limited interoperability between UNHCR cards and LMMS. For LMMS to become capable of reading UNHCR cards and improve food assistance in refugee camp settings, a series of conversations, demonstrations and modifications were made to prove commitment, showcase functionality, provide testimonials, code new software as well as test and verify quality.
As of July, 2016 the link between UNHCR data and World Vision's LMMS system has been scaled up to reach 50 per cent of the refugees World Vision serves in Dadaab and 60 per cent in Kakuma refugee camp.
The efficiency, effectiveness and accountability that LMMS has made manifest on dozens of projects around the globe has finally been able to manifest in camp settings.This case study is another example of LMMS' efficacy and interoperability in a growing evidence base.
Read the article
Read more about LMMS
Watch an intro video on LMMS