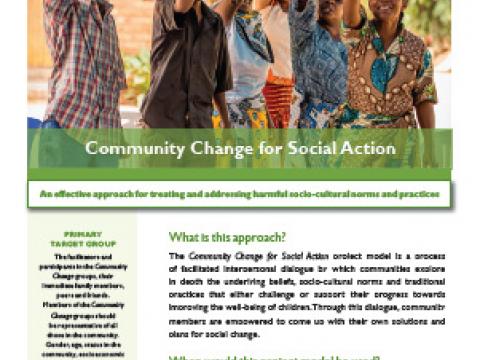 Community Change for Social Action Project Model
Monday, July 7, 2014
What is this approach?
The Community Change for Social Action project model is a process of facilitated interpersonal dialogue by which communities explore in depth the underlying beliefs, socio-cultural norms and traditional practices that either challenge or support their progress towards improving the well-being of children. Through this dialogue, community members are empowered to come up with their own solutions and plans for social change.
When would this project model be used?
The Community Change project model is an appropriate and effective approach for addressing issues such as: early child marriage; female genital mutilation (FGM); stigma or discrimination against vulnerable groups; cultural norms around the value of education; inequitable control and decision making rights in the household; misinformed perceptions about family planning; and forms of violence, abuse and exploitation (such as domestic, gender-based and interfamilial violence as well as the abuse and exploitation of children).