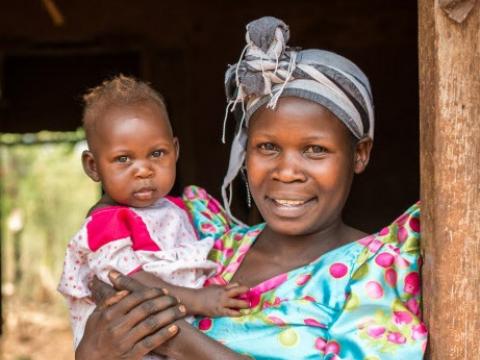 Child Health and Nutrition Impact Study
Latest News 
CHNIS final results progress report: Zambia and Guatemala begin Report Preparation Process, Data entry well underway for Cambodia and Kenya
Endline data collection has now concluded in Cambodia and Kenya. The in-country teams are preparing reports to outline the sample sizes achieved for the different data collection activities. Data entry is underway and data verification is occurring collaboratively between JHU and in-country partners. 

In Zambia and Guatemala country level data analysis and preliminary report writing is ongoing, with multiple rounds of report editing. Preparations for the impact analysis are also underway which include literature reviews of study country health profiles and the review of analysis plans, utilizing several methods to determine the impact of the bundled interventions. For more information, contact Anna_Paden@wvi.org.
What makes a difference when it comes to being cost- efficient?


A key element of the CHNIS cost-analysis exercise  is to assess cost-efficiency. This approach focuses on examining how resourcefully the programme deployments have converted inputs to achieve study outputs, for example, the number of Community Health Workers active per number of training sessions provided. It also examines the factors that drive cost efficiency ratios in each study site. Along with assessing the efficiency of programming in it's entirety, we will also be looking at specific costs associated with deployment of the three project models against key outputs (e.g. for ttC, number of pregnant women and mothers under 2 reached and counseled; for COMM, number of COMM groups active). Some of the factors we expect might influence cost-efficiency aside from management decisions made by project staff include:
variations of study features such as leveraging existing government or community systems vs creating new ones
contextual differences such as within and cross country differences in price or geographical location
environmental factors like seasonal changes in birth rate
Generating evidence on the cost-efficiency of CHNIS will provide practical information for making programmatic, management and policy recommendations for scale up of ttC, COMM or CVA models. For more information on this work, please contact Armen Martirosyan, Health Research and M&E Specialist.
Guatemalan Madres Guías Gather t
o Share Experiences 

In August, the Guatemala team hosted two peer-to-peer learning events, one with Madres Guías and the other with COMM members from the sites involved in the study. Last month we highlighted the lessons learned from the COMM face-to-face and this month we are focusing on the Madres Guías workshop. Madres Guías, or Mother Guides, are Community Health Workers who perform ttC home visits. The main objective of the workshop was to provide a space for sharing experiences and to review ttC methodology including the content of home visits, results of a demographic mapping exercise, and using monitoring and supervision tools. Through the sharing of their experiences, the Madres Guías agreed that visit 5, during the infant's first week of life, was the most important home visit. That being the case, during the workshop a refresher training was conducted on the key topics for this visit including exclusive breastfeeding and danger signs for both postpartum women and infants. The importance of including the entire household in the visits was also reaffirmed. Madres Guías must be intentional to motivate all family members to participate in the visits and activities to facilitate optimal behavior change. For both the Madres Guías and the COMM members, the face-to-face workshops provided an unique opportunity for community leaders to meet, present their successes and challenges, learn from their colleagues, and recognize their own work and the work of other volunteers. 
Working together to build a new bathing center in Muniile, Zambia: Community groups work in synergy to address Maternal and Child Health

"The community did not know they have the voice to influence things to happen" Sharon, World Vision CHNIS coordinator in Magoye ADP.

In Magoye ADP over the last two years, all 7 Rural Health Centers have seen the capacities of their COMM groups built (COMMs are called Neighborhood Health Committees or NHC in Zambia). Capacity building supported by World Vision has enabled the 208 NHC members to function effectively, supervising community-based cadres of Community Health Workers within a particular catchment area.  During this same period, CVA groups were mobilized and trained. Previously, communities waited for things to be provided by local government. They believed that requesting something would be seen as "[acting] against the state". But following CVA training, a change in mindset was visible.  Community members are now knowledgeable about policies and standards within local public facilities particularly education and health, and know they have a legal right to demand that these standards are upheld. The community mindset change spurred by CVA training, combined with strengthened NHCs started to reinforce each other to improve Maternal and Newborn health in Magoye. 

The story of a dilapidated and unsanitary bathing facility at Muniile health center illustrates the transformative power of this approach. As ttC trained Safe Motherhood Awareness Groups (a term used to describe Community Health Workers in Zambia) ramped up home visits to ensure that all women receive skilled childbirth care at the Muniile health center, the NHC group members quickly realized that the condition of its bathing shelter was a barrier for women considering where to give birth. Using their COMM training the NHC made an action plan to help address the problem, and engaged community members including the CVA group.  The CVA group then advocated for local government to make improvements, and helped identify resources for the bathing shelter. As a result, the community began the construction of the bathing shelter at Muniile to offer new mothers a safe facility to use following delivery and it was completed this year. 


About The Study
The Child Health and Nutrition Impact Study (formerly known as chTIS, the Child Health Targets Impact Study) is a five-year research collaboration, launched in 2012, between World Vision and Johns Hopkins University Bloomberg School of Public Health together with academic partners in four countries. The study is designed to measure the impact and cost-effectiveness of World Vision's package of interventions on the health and nutrition of mothers, newborns and children. 
Child Health and Nutrition Impact Study Theory of Change:

One approach seeks to guide behaviour change at the household level; the second equips the community to create the enabling environment for those behaviours; and the third facilitates local-level government accountability to make the changes for effective service delivery. 
Specifically, it is evaluating the effectiveness of three community systems strengthening approaches at sites in Cambodia, Guatemala, Kenya and Zambia. The approaches aim to raise awareness of preventive health and nutrition practices, support practice change and strengthen local health systems. They were chosen for bundled study based on evidence demonstrating the effectiveness of each and a synergy hypothesis that providing support on multiple levels has the potential to deliver greater impact than a basic approach.
The bundle of interventions to be evaluated includes:
Timed and Targeted Counseling, which deploys home visitors trained in behavior-change communication to engage families in dialogue, counseling and negotiation for better health practices. Visits are targeted to times in pregnancy and early childhood when these health messages are most relevant.
Community Health Commitees empowers community groups to support health practice change. This could include providing a support system for community health workers, and assessing and addressing barriers to health.
Citizen Voice and Action empowers people to monitor health services and build relationships with local governments in order to hold government accountable for the quality of health services offered.
Study Design and Timeline
The Child Health and Nutrition Impact Study is a two-arm, quasi-experimental evaluation, with two intervention sites per country receiving the bundle of three approaches versus two matched comparison sites in each country receiving Community Health Committees plus any existing home visitor approach. In each country, a local academic team is partnered with Johns Hopkins researchers to carry out the evaluation.
The study has four phases:
Preparation: This phase included site selection, development of the research plan, pre-assessments to adapt programmes to local settings, and preparation of suitable monitoring tools. In addition, partnering with ministries of health to align target health behaviors was a critical foundational activity to ensure programme sustainability in the local context.
Baseline measurements: Initial assessments on a set of indicators were undertaken in all sites to determine pre-existing levels of maternal, neonatal child health and nutritional status. Dissemination of baseline findings will ensure key learnings are incorporated as the study progresses.
Implementation: Intervention health programmes were implemented and will continue over approximately a 24-month period in intervention sites, prior to endline measurements.
Endline results: The evaluation will conclude with endline measurements, which will be compared with baseline health status to determine if any changes have occurred and whether they are the result of World Vision's health programmes after considering other possible explanations. Dissemination of final results will ensure key learnings are shared and used to improve programme impact.
How will we use the study's results to improve World Vision's work?
The results will help us increase the efficiency and effectiveness of World Vision's maternal, neonatal and child health programmes, as well as guide strategic decisions about scale-up of these approaches globally.  The process will document both success factors and challenges related to field implementation, while assuring programme quality. Study findings also will contribute to the global evidence base of effective community- based approaches for preventing malnutrition and addressing preventable maternal and child deaths. Importantly, the results will be shared in the communities that participated in the research so that they may benefit from the learnings as they continue the effort to better maternal and child health.
Featured Resources
International research leads:
Dr. Anbrasi Edward, Principal Investigator, Johns Hopkins University Bloomberg School of Public HealthDr. Jane Chege, Senior Director, Monitoring & Evaluation; Evidence & Learning, World Vision International
National research leads:
Dr. Chhea Chhorvann, National Institute of Public Health, Cambodia Dr. Manuel Ramirez, Instituto de Nutrición de Centroamérica y Panamá, GuatemalaDr. Grace Ettyang, Moi University, KenyaDr. Mubiana Macwan'g, Institute of Economic and Social Research, Zambia
HOW CAN I LEARN MORE?
Download anoverview of the CHNIS.
Impact Study FAQ: Click HERE.
Please contact Annette_Ghee@wvi.org with your questions.
CHNIS was formerly named Child Health Targets Impact Study - chTIS