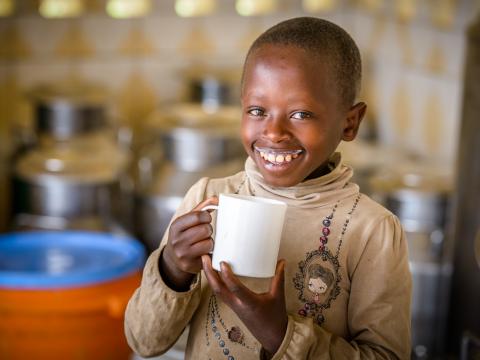 Intervention 9: Prevention, care seeking and treatment for acute malnutrition
Prevention, care seeking and treatment for severe acute malnutrition (SAM)
An estimated 52 million children under 5 suffer from acute malnutrition, including 19 million with severe acute malnutrition (SAM), which greatly increases their risk of morbidity, mortality and chronic malnutrition. Most acute malnutrition occurs not because of humanitarian emergencies but due to:
food insecurity (often seasonal)
poor health
sanitation
The MOH (Ministry of Health)-integrated programs for treatment of SAM implemented from 2007-2013 achieved a median cure rate of 84%, exceeding SPHERE standards. Through the Community-based Management of Acute Malnutrition (CMAM) approach, 85% of children with severe acute malnutrition can be rehabilitated with Ready-to-use Therapuetic Food (RUTF) through outpatient services while only 15% need to be referred to inpatient care facilities.  
Ready-to-use Therapuetic Food
This approach has allowed treatment to reach over 2 million children per year, but a significant gap still remains. Greater access may be achieved by using Community Health Workers to deliver CMAM services, eliminating the reliance on outpatient centres. This approach has been piloted in a few projects, including by World Vision Angola with positive results. Further research is planned to establish the evidence base for this promising approach. 
Forseeable Challenges
RUTF supply
Linkages between community and facility-based services
Minimizing distance to services
Workload and incentives for community volunteer or CHWs
Adapted from: www.thelancet.com/journals/lancet/article/PIIS0140-6736(13)60996-4/abstract
Joint Technical briefing is Pending 
Questions: 
What is acute malnutrition?
Acute malnutrition, which is also known as 'wasting,' occurs when there is recent rapid weight loss or a failure to gain weight. This is most often caused by insufficient food, disease, inappropriate childcare practices or a combination of these factors.
Visible signs of wasting include thinness and bilateral oedema as in the pictures of the feet on the previous page. There are ways to measure if a child has acute malnutrition.
What is the difference between Severe Acute Malnutrition(SAM) and Moderate Acute Malnutrition?  
Children will be given these diagnoses based on specific measurements. SAM is more serious and life-threatening than MAM.
What is bilateral oedema? 
Bilateral oedema is fluid retention on both sides of the body. It is a visible sign of severe acute malnutrition. 
What is MUAC?
MUAC means 'Mid-Upper Arm Circumference' and it is a measure of acute malnutrition in which the upper arm of the child is measured.
What is CMAM?
CMAM means Community-based Management of Acute Malnutrition, and it is a way of treating acute malnutrition in the community instead of the clinic. The majority of children are treated in the community using ready-to-use therapeutic food (RUTF) and weekly visits to a health post for medical checks and routine medicines.
What is RUF and RUTF? 
RUF is Ready-to-Use Food, and it is any food that is designed to be eaten straight from the packet, without the need for cooking or other preparation.
 RUTF is Ready-to-Use Therapeutic Food. It contains all of the energy and nutrients necessary so that children with acute malnutrition can rapidly catch up in their growth. It is used particularly in the treatment of children from 6 months of age with severe acute malnutrition who have no appetite and no medical complications.
How big of a global problem is acute malnutrition? 
At any given time, an estimated 52 million children are acutely malnourished. Most of these children are living in places that are not in emergency situations; rather, this is 'normal life'.
The majority of wasted children are found in Asia, followed by Africa. It is estimated that less than 15% of acutely malnourished children are receiving the required treatment. 
Why is prompt treatment essential for a child with acute malnutrition? 
Children with moderate or severe acute malnutrition are at much higher risk of dying compared to healthy, well-nourished children. Severe acute malnutrition is considered a life-threatening emergency—prompt and effective treatment is urgently required to prevent death. Acute malnutrition increases the risk of disease and also affects a child's overall growth and development.
How is acute malnutrition detected?
Acute malnutrition is identified by looking for visible signs—thinness and oedema—and by measuring the child's weight, height and MUAC.
Most government protocols for the management of acute malnutrition recommend using MUAC to screen for acute malnutrition at the community level. Volunteers can be trained in this simple procedure and can refer children with acute malnutrition to treatment facilities. 
How can acute malnutrition be prevented?
The causes of acute malnutrition are similar to those of stunting and micronutrient deficiencies, therefore, strategies to address other forms of malnutrition will help to prevent wasting.  Preventive actions such as improved infant and young child feeding and good hygiene and sanitation are important. 
What is the treatment for acute malnutrition?
Children with acute malnutrition require timely and effective treatment in order to prevent serious illness and death. The recommended treatment is called Community-based Management of Acute Malnutrition (CMAM).
The CMAM approach has four components:
 Supplementary Feeding Programme (SFP) for moderate acute malnutrition,
 Outpatient Therapeutic Programme (OTP) for severe acute malnutrition,
 Stabilization Care for complicated case of acute malnutrition.
 Community Mobilization. This refers to a range of activities that build a relationship with community members and build the capacity of the community for early detection of acute malnutrition, referral and prevention. Community mobilization is an essential step to ensure that children requiring care in the community are accessing it.

 Most CMAM programmes are implemented within the primary health care system, managed by the Government, with support of local partners and the UN. 
What if CMAM services are not available? 
If there is no Outpatient Therapeutic Programme, the first response should be treatment of Severe Acute Malnutrition (SAM) at an in-patient facility; that is to say, at a hospital.  If a Supplementary Feeding Program ration is available, all SAM children should be given a ration rather than nothing at all. In some places, SAM children have been given a double SFP ration until the special Ready-to-use Therapeutic Food.
Children with Moderate Acute Malnutrition (MAM) can be enrolled in Positive Deviance/Hearth programmes if other treatment services are not locally available.  
Can local foods be used to treat acute malnutrition? 
It is important to remember that SAM children require specialized care due to their unique physical needs as a result of acute malnutrition. They cannot handle a normal diet and often refuse food due to their weakened physical state. As a result, international protocols such as CMAM have been developed to ensure the safe and effective rehabilitation of children with severe acute malnutrition. In the absence of supplementary feeding programmes, local foods can be used to treat moderate acute malnutrition; however, such children should be assessed by medical personnel to screen for medical complications.
Can RUTF be made locally?
RUTF can be produced locally using simple equipment. However, it is a complex process requiring strict quality control and hygienic practices. Many attempts to make local RUTF have been unsuccessful.