How do you escape an invisible enemy?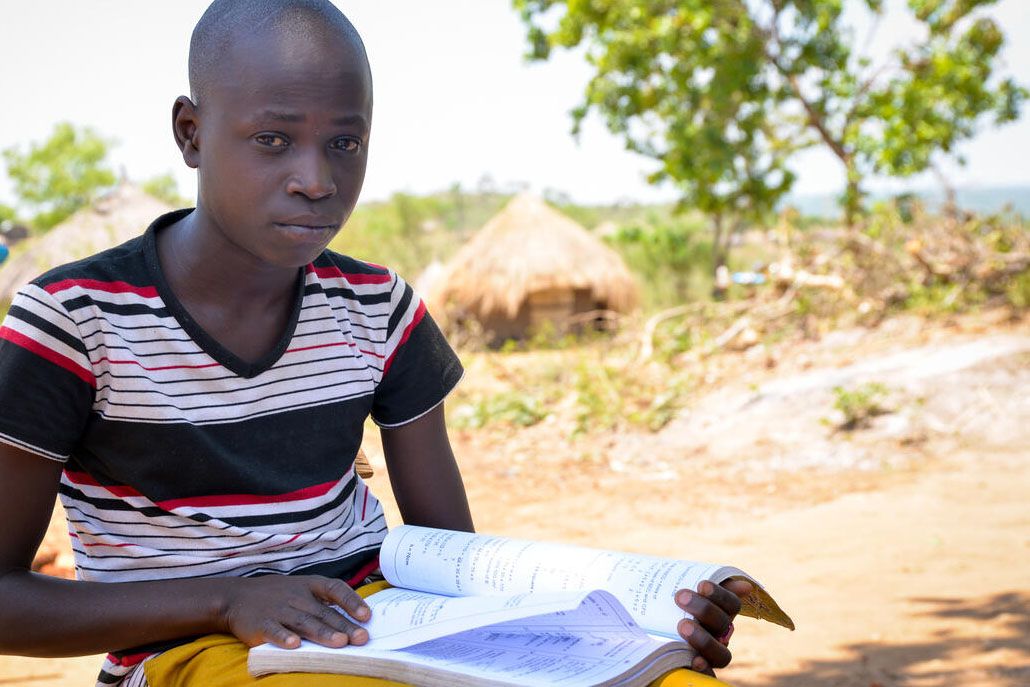 "I now read from home because at school they told us there is a new disease called Coronavirus and it kills people. We were encouraged to continue reading at home, so that we don't forget what we studied."
Daniel, 16, is the eldest of seven siblings living as refugees in the Ugandan village of Omugo, where they are locked down during the pandemic. His school has been shut down to slow the incoming spread of COVID-19, so his mother Jessica bought him a textbook to further his studies in the meantime. It feeds Daniel's ambitions. He wants to be a doctor one day and fight "diseases like Corona that kill people."
The next eldest, Simon, 15, is doing the same with a radio that his dad bought him he before left to find food and money for the family in South Sudan. Simon misses his father, his Hidden Hero in this crisis, who often travels back to their home country of South Sudan to find food and money for the family. Now, he can't cross back to meet his family because of the government lockdown.
Their  family, along with nearly 150,000 other children in Ugandan refugee camps, left the deadly circumstances of their home countries only to face a viral outbreak that now could have unprecedented mortality rates in the very communities they fled to. World Vision Program Director Brenda Madrara explains, "the disease might not kill as many children [as adults] from the available statistics, but the impact to them is great."
Many children from refugee settlements rely on foster care. But foster parents in Uganda are now struggling with accepting another child because of the strain it puts on their food supply and the possibility that foster children could bring infection. Others live with their grandparents, who are at much greater risk for contracting COVID-19. If these guardians died or were hospitalised, thousands of refugee children would lack basic care.
World Vision is responding to the needs of children like Daniel by providing soap, hand washing facilities and personal protective equipment to health workers in Omugo. Nicholas Tayeebwa, the Assistant Settlement Commandant, reports, "[by] engaging our partner, World Vision, we are making sure that refugees can still access all the services entitled to them including food, water and health care. We do all these while observing the set government guidelines on social distancing."
"We are making sure that refugees can still access all the services entitled to them including food, water and health care."
Brenda understands that hygiene education and information on COVID-19 are just as important as the resources used to prevent it. "It is important that the community understands the war we are fighting. We are working with children ambassadors and child protection committee members who are from the community to disseminate these messages," she says.
One of these ambassadors is Daniel's younger brother, William, 14, who travels across the village on Brenda's behalf to share prevention tips and updates to those staying at home. "I hear that the coronavirus kills people," he explains. "Because of this, I am telling people there should be no gathering in one place, no playing football." William's expression is somber, and it's obvious that he sorely misses his friends.
Whether it's the fear of losing a child, or just longing to be a kid again, the pandemic brings back a sense of vulnerability to all of Uganda's refugees that is all too familiar. But, with the help of young heroes, like Daniel, Simon and William, children like them can stay protected and provided for in these trying times and eventually return to the simple joys of life.