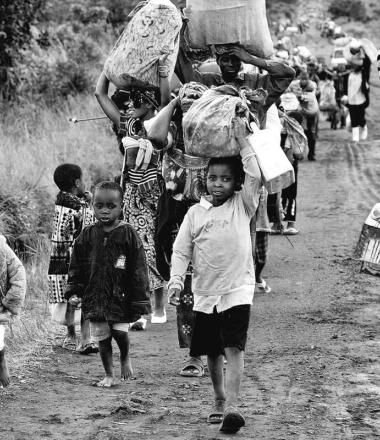 World Refugee Day
79.5 million people have been forcibly displaced
You can help children survive and recover.
Donate Now
In an instant, life has changed for tens of millions
Stop for a moment. Breathe. This hasn't been a normal 12 months by anyone's measure. The pandemic has made the world a different place. But for tens of millions of people — life was already at crisis point.
They're fleeing conflict, climate change, chronic hunger and now, dealing with a health crisis. There are more refugees and displaced people in the world today than at any other time in history. In fact, 79.5 million people have been forced from their homes and 40% of them are children.
This World Refugee Day, as we fight for the lives of vulnerable children, put yourself in their shoes. Are you willing to let us turn your phone into a refugee's lifeline for 3 minutes?
Just as every bar of battery counts when you're someone fleeing danger, every contribution matters when we're trying to make a difference — no matter how big or small — to those who need it most.  Please, Donate Now. 
When life changes, we change lives.
For many of us, the pandemic was the first time we've been forced to adapt to a new way of life. Displaced people often don't have the resources to adapt, so we need to work together to help them survive, recover and build a future.
When vulnerable children are living in dangerous places, we work to help them survive, recover and build back stronger. To do this, we rely on our global networks and infrastructure to provide:
Food distributions and assistance

Health, nutrition, water, and hygiene support

Access to vaccinations, medical care and support

Safe places for children to learn, play and receive emotional support.

Vocational training and livelihood programmes

Cash, voucher transfers and social protection 
These are unprecedented times. But, with your support, we're able to respond to unexpected crises like COVID-19. When life changes in an instant, we move instantly.
Stories of hope. Changing lives for good.